On this page you can read about, and see photos from selected exhibitions.
If you are interested in knowing more about current and upcoming exhibitions, read more on Instagram and Facebook.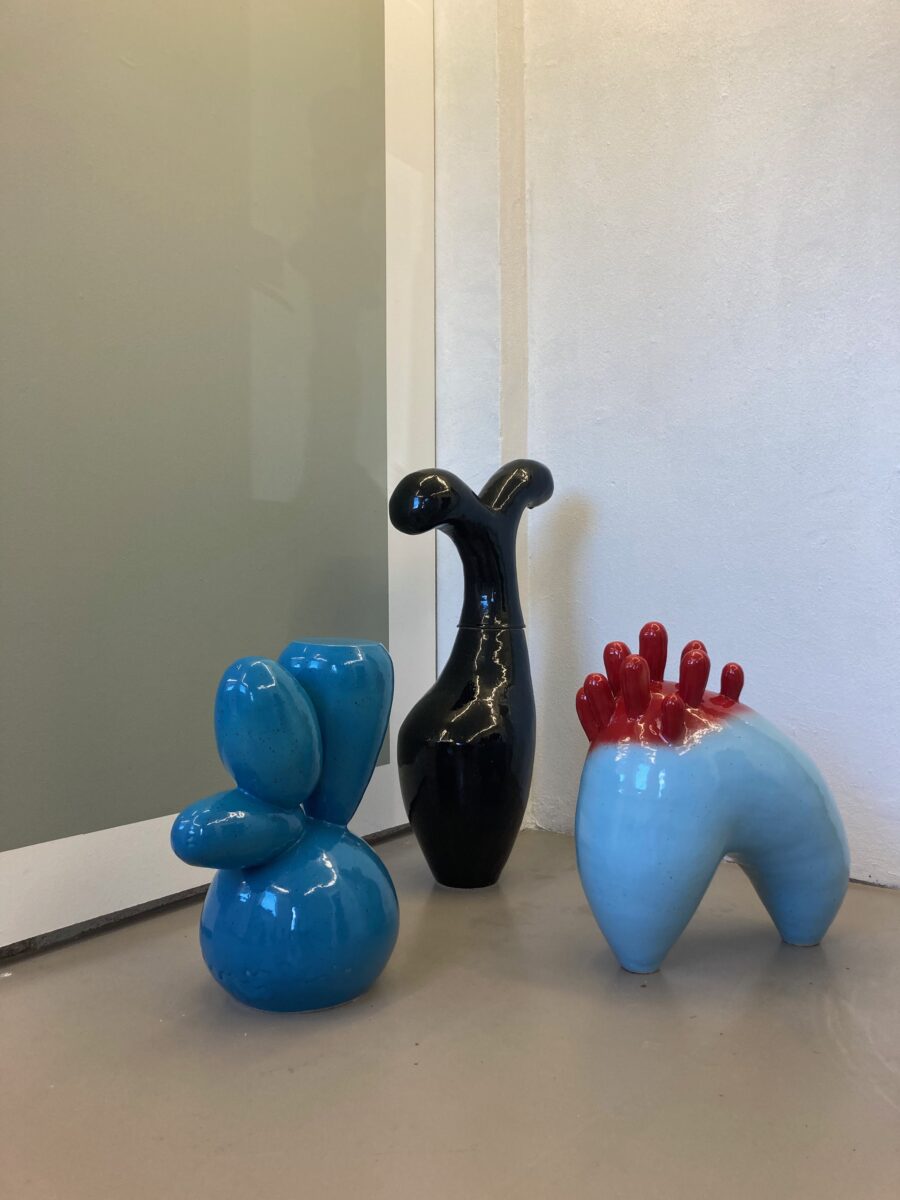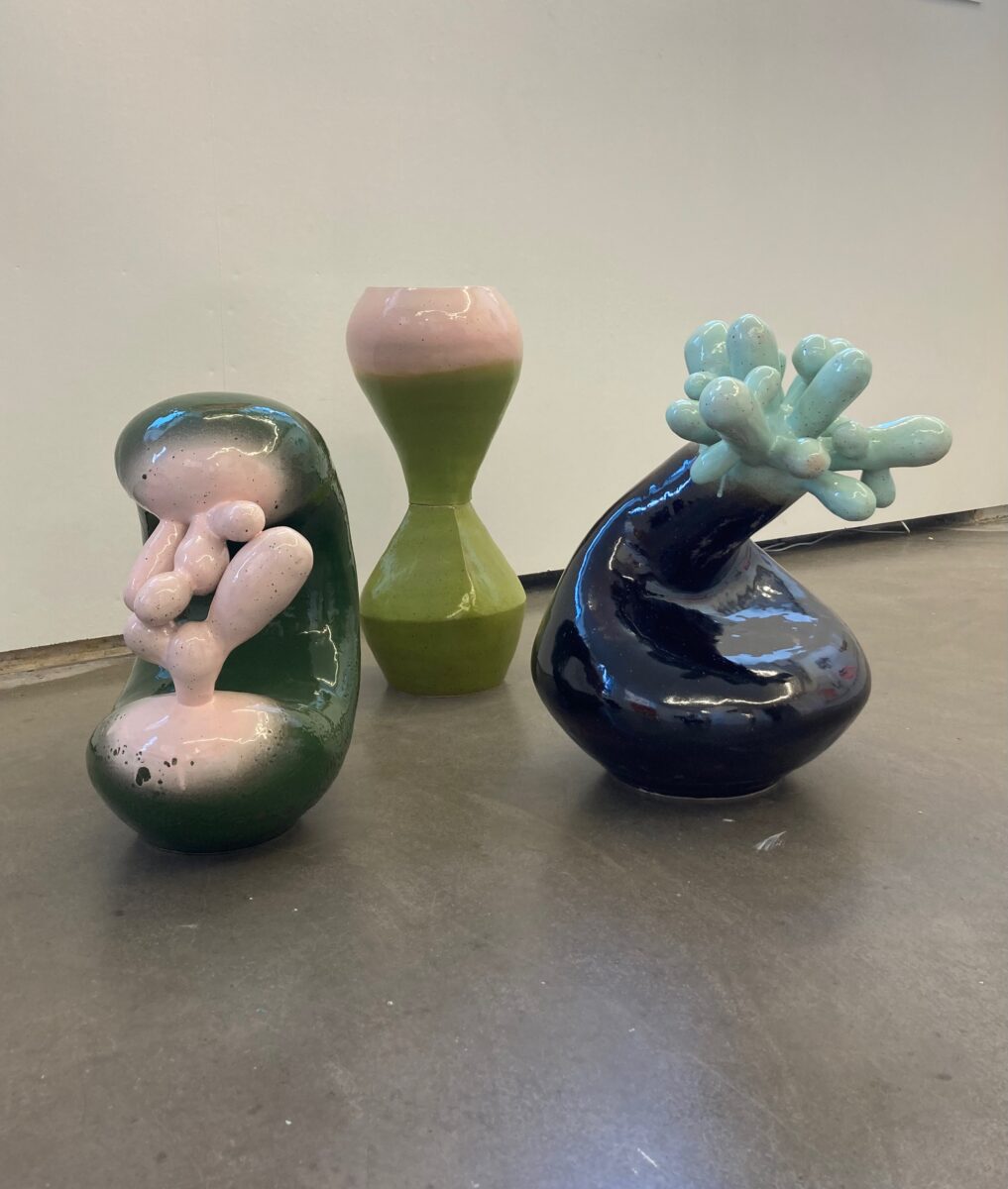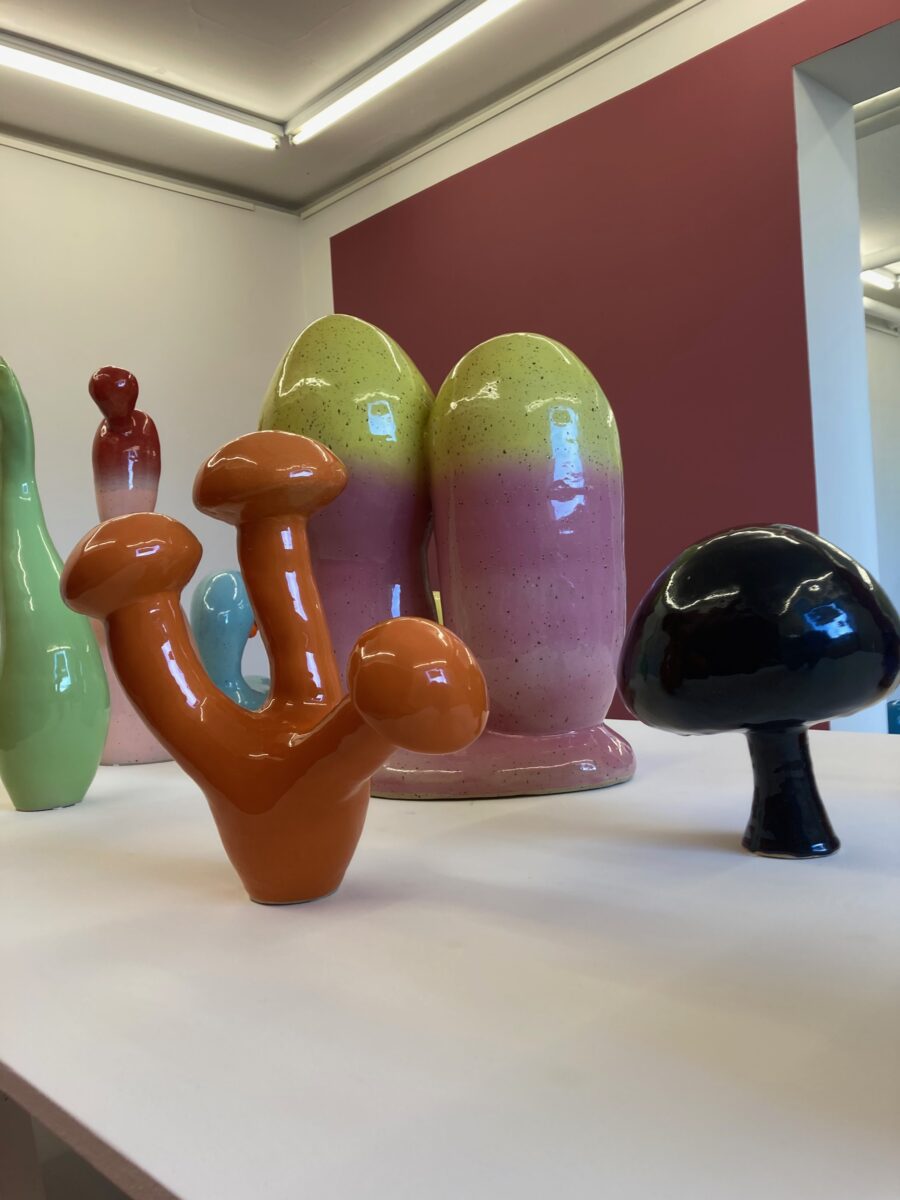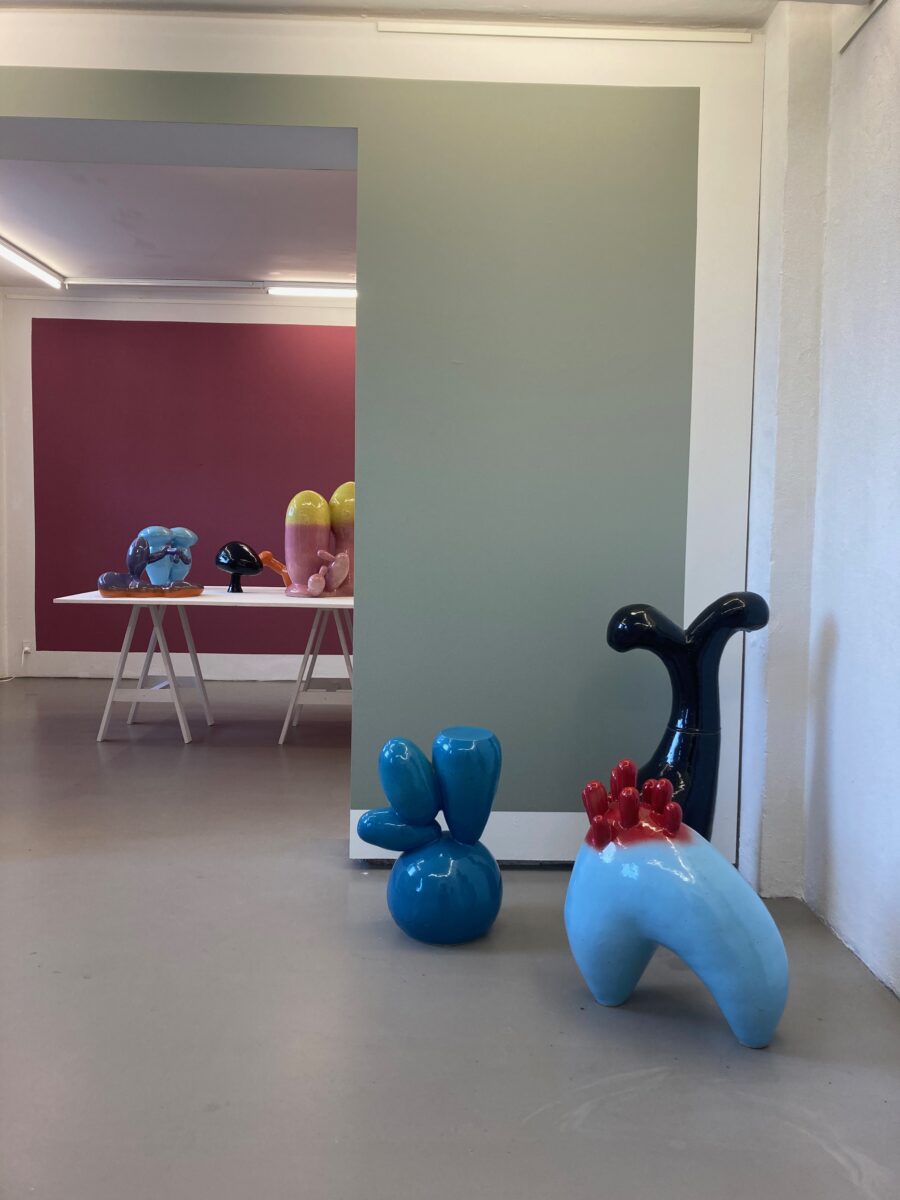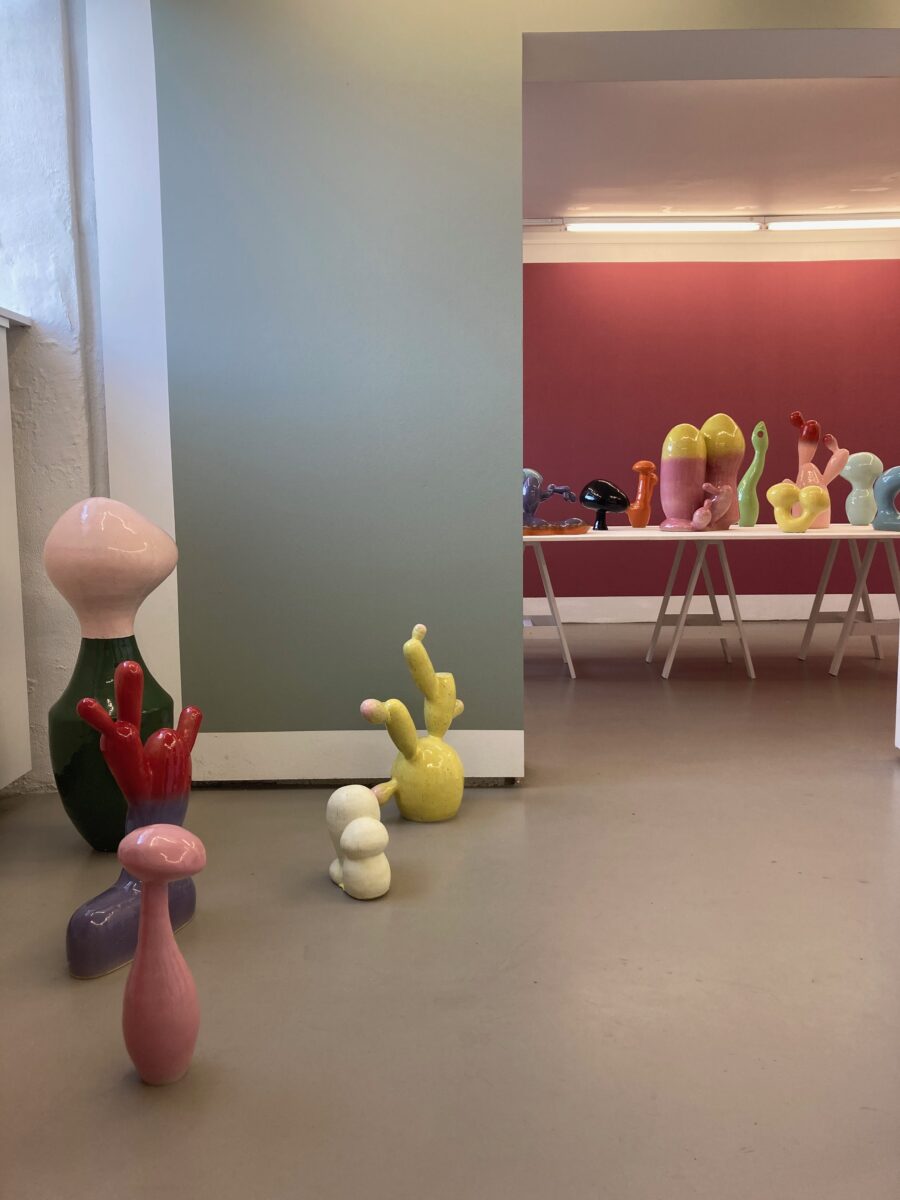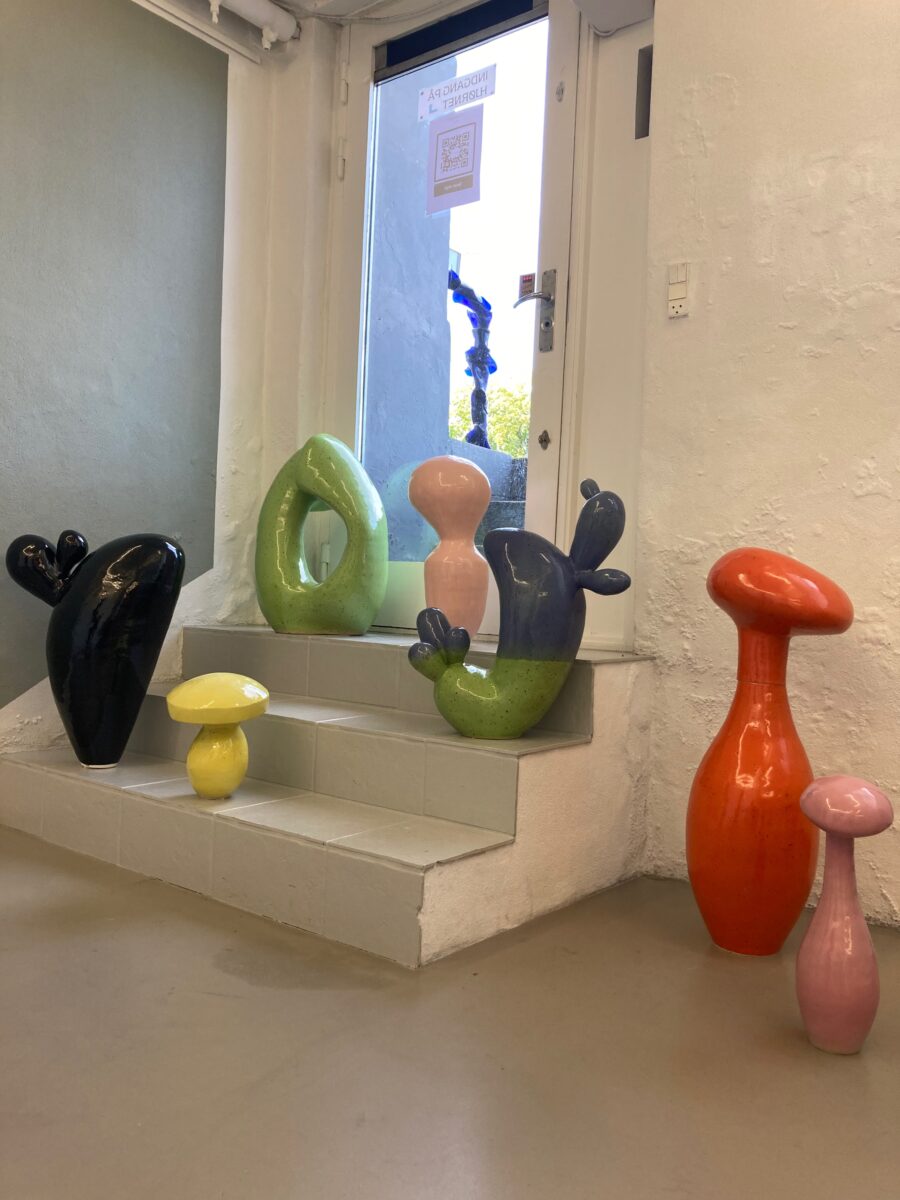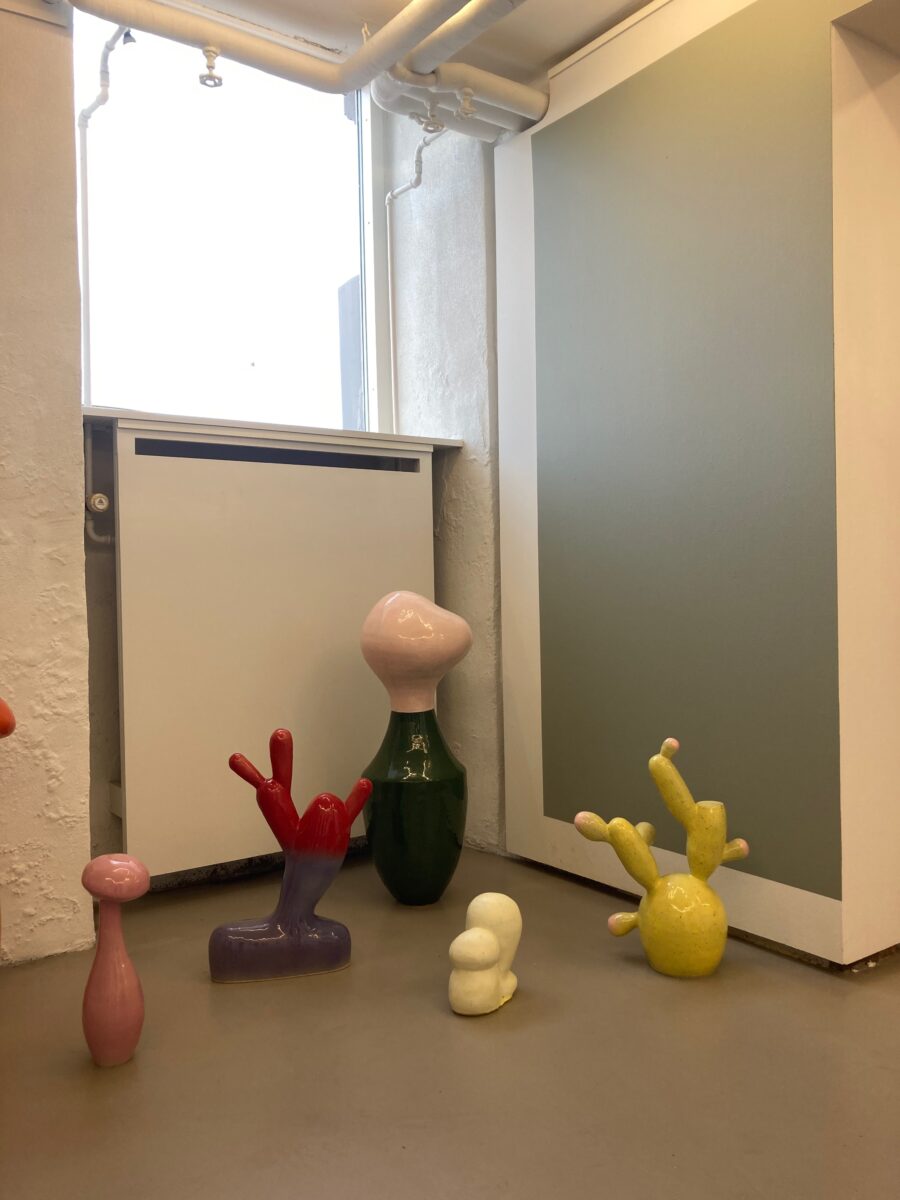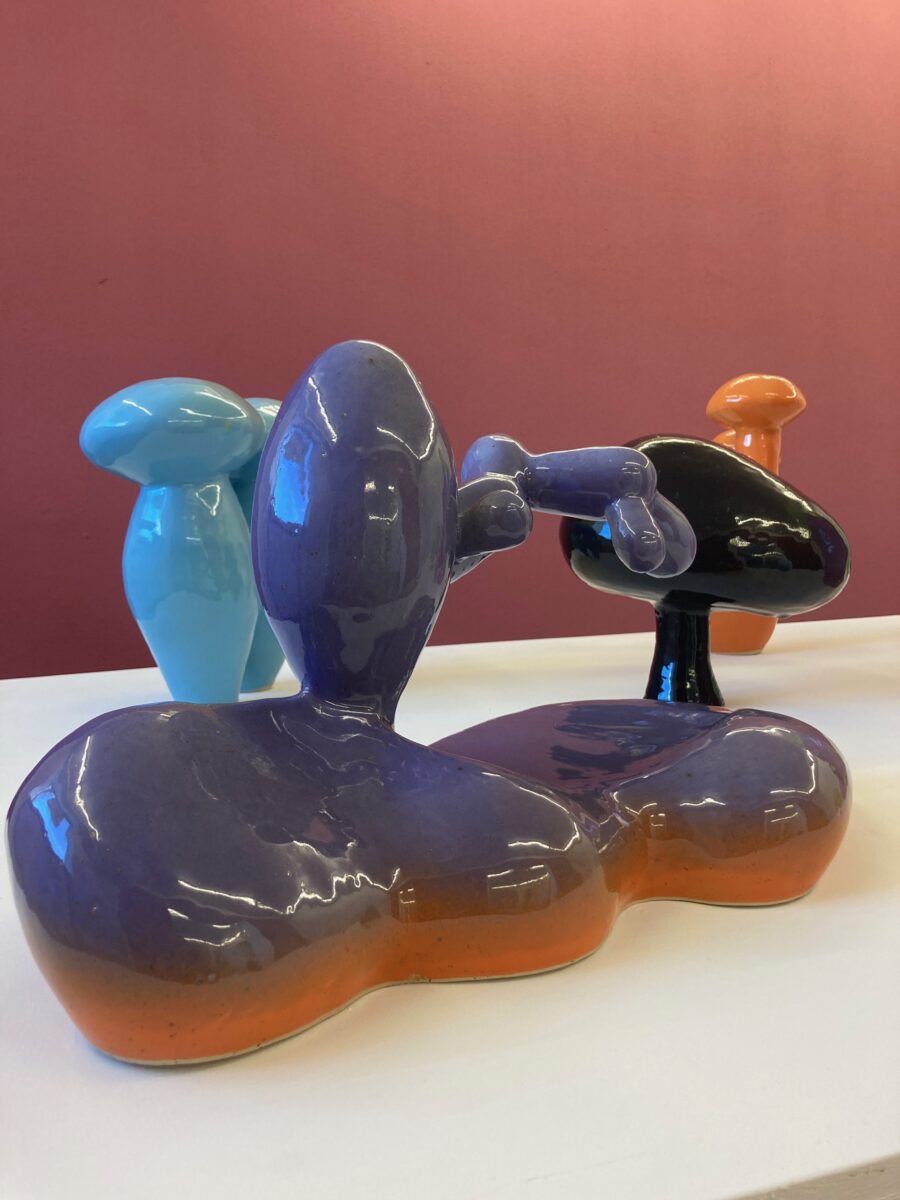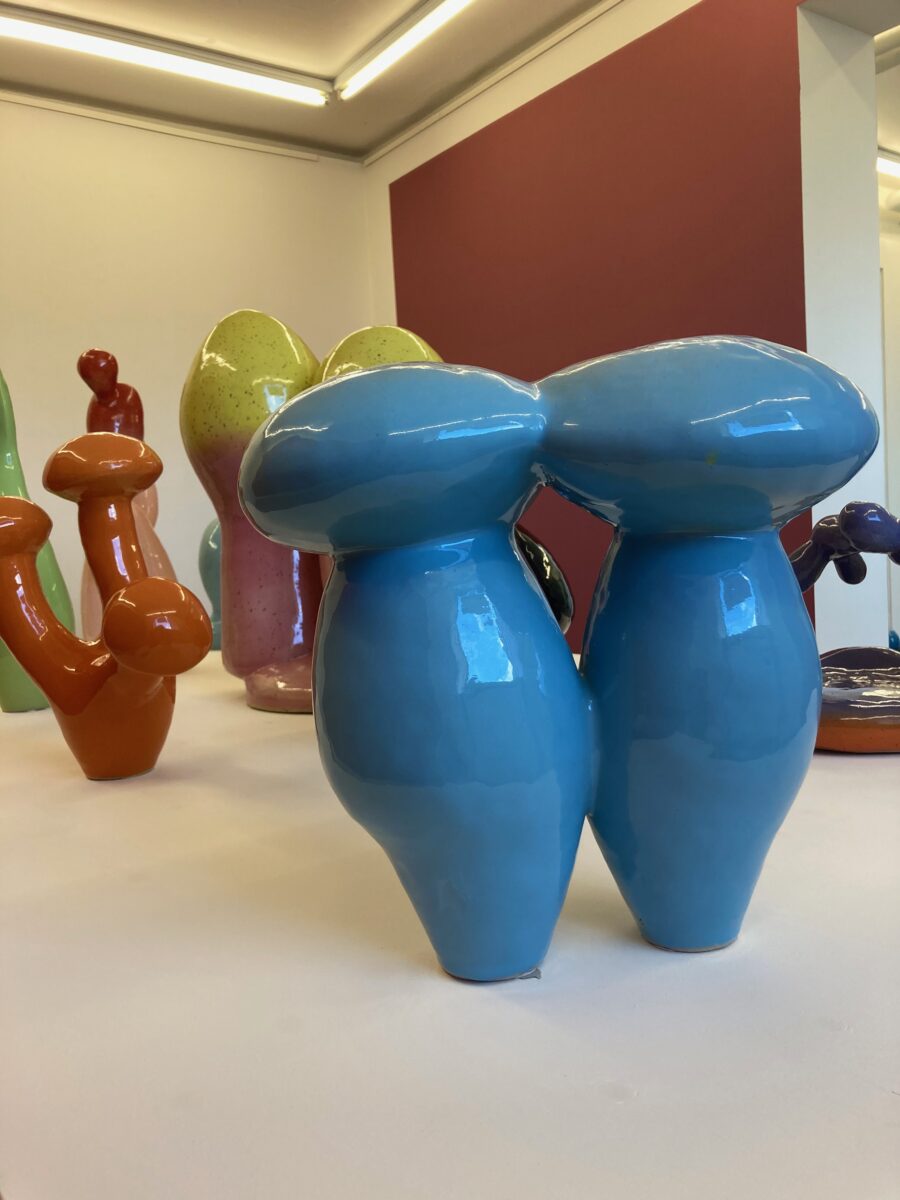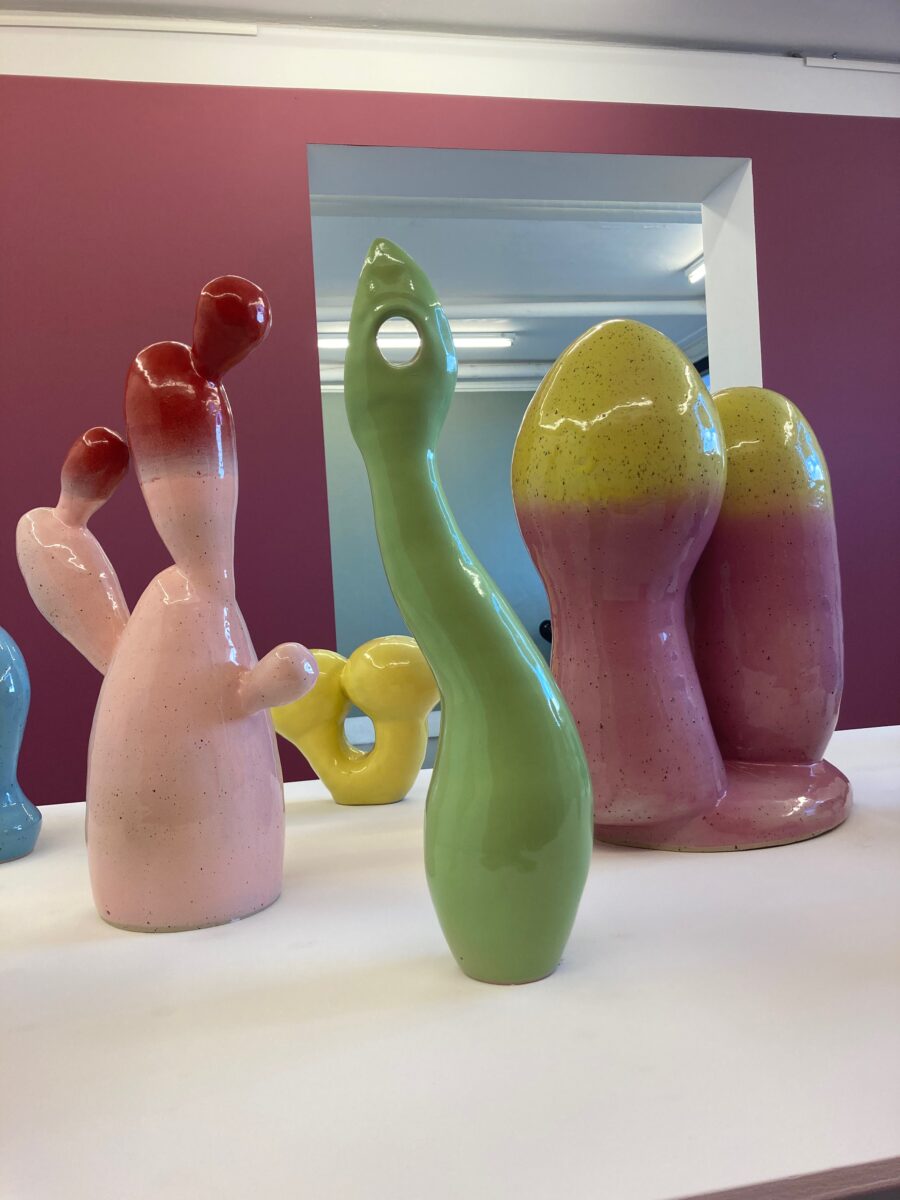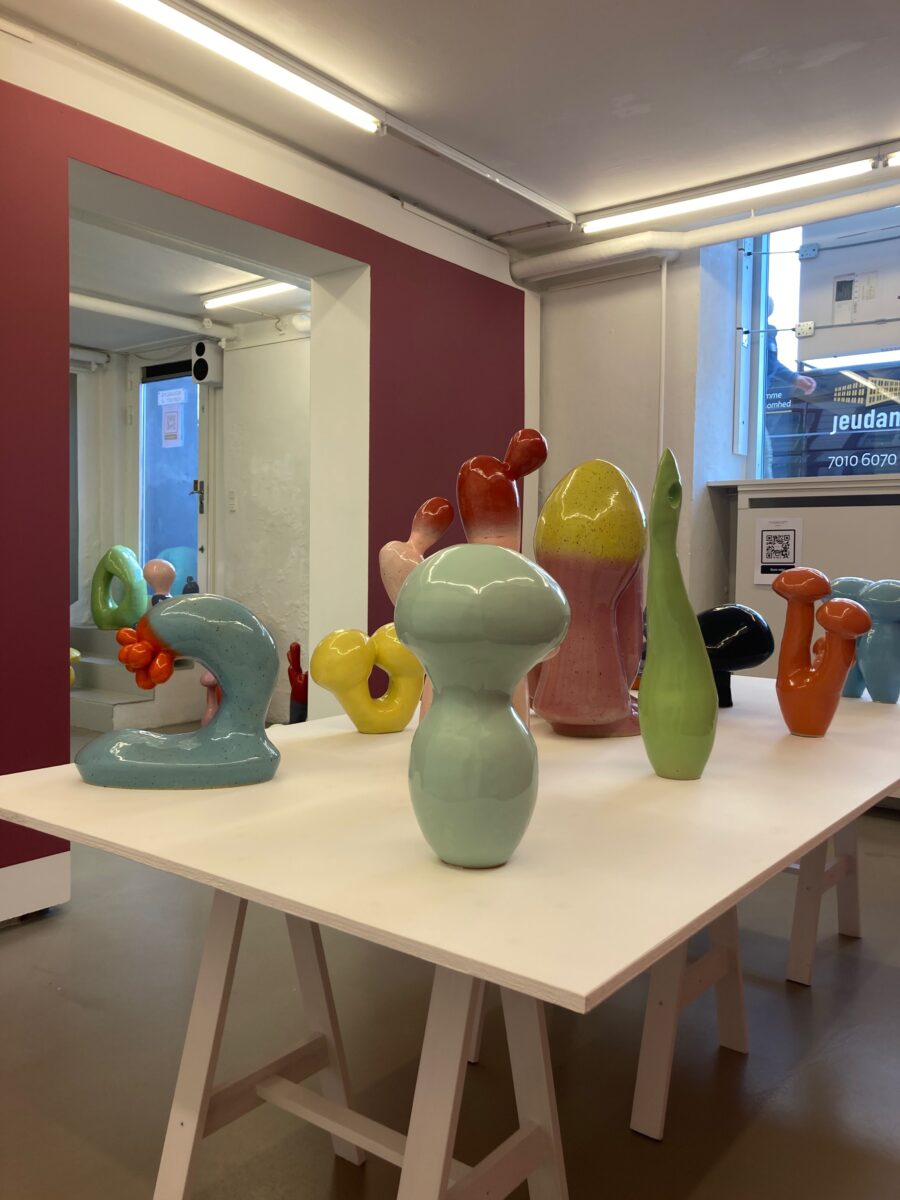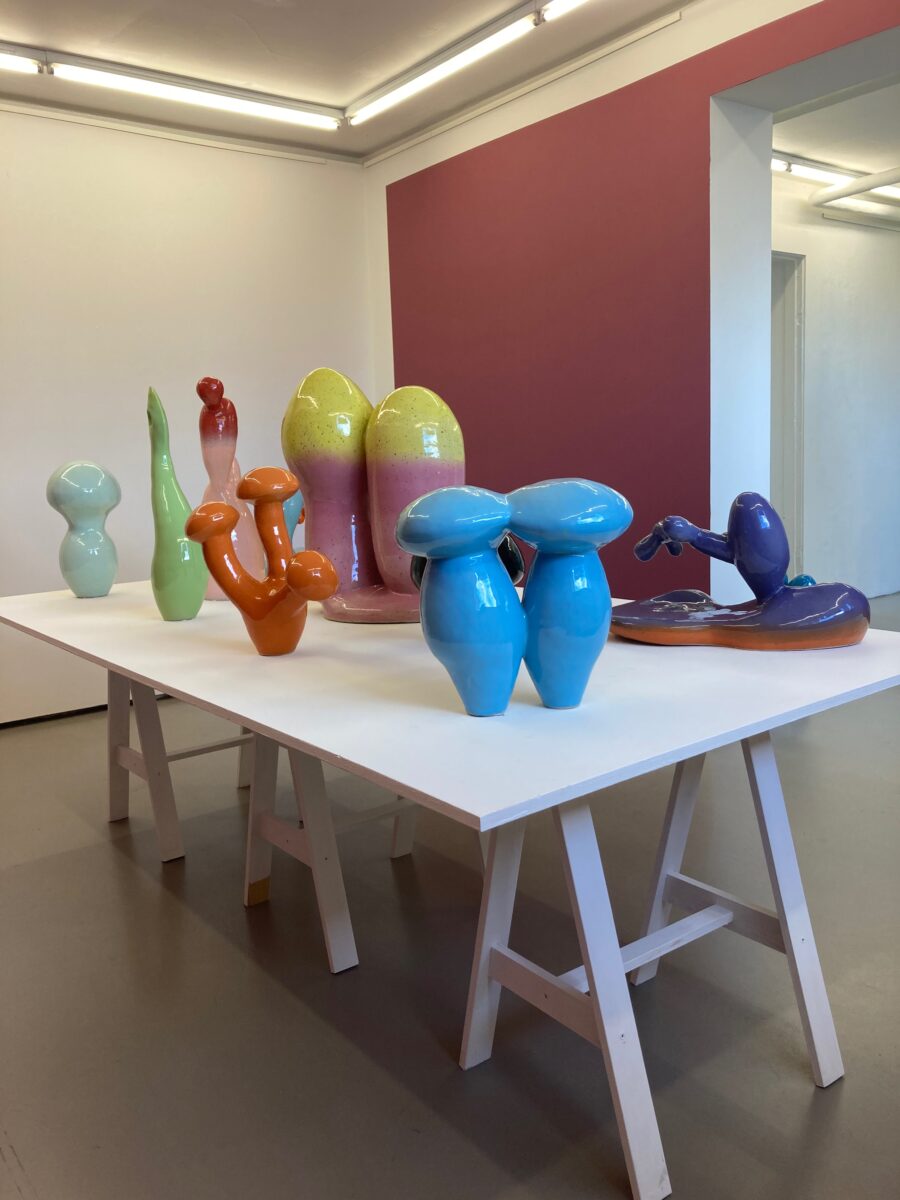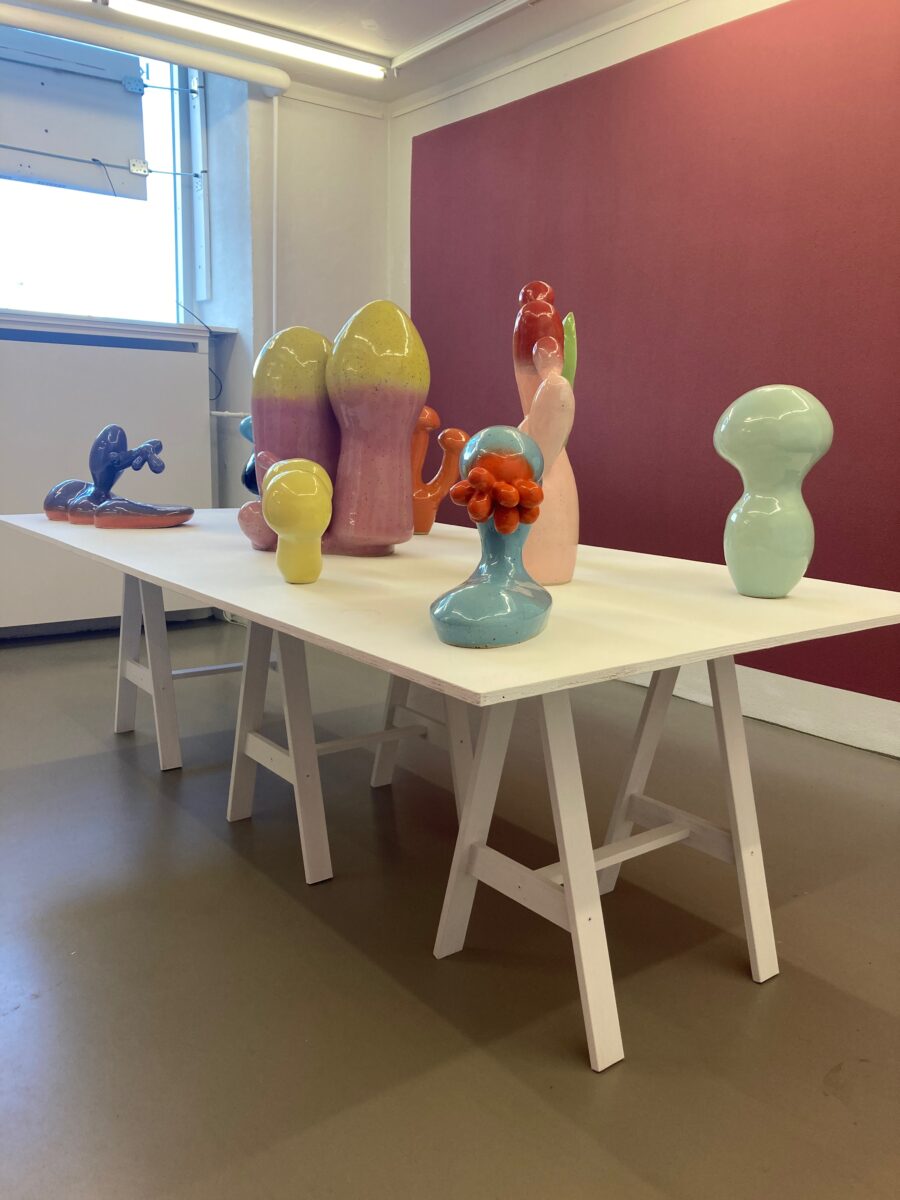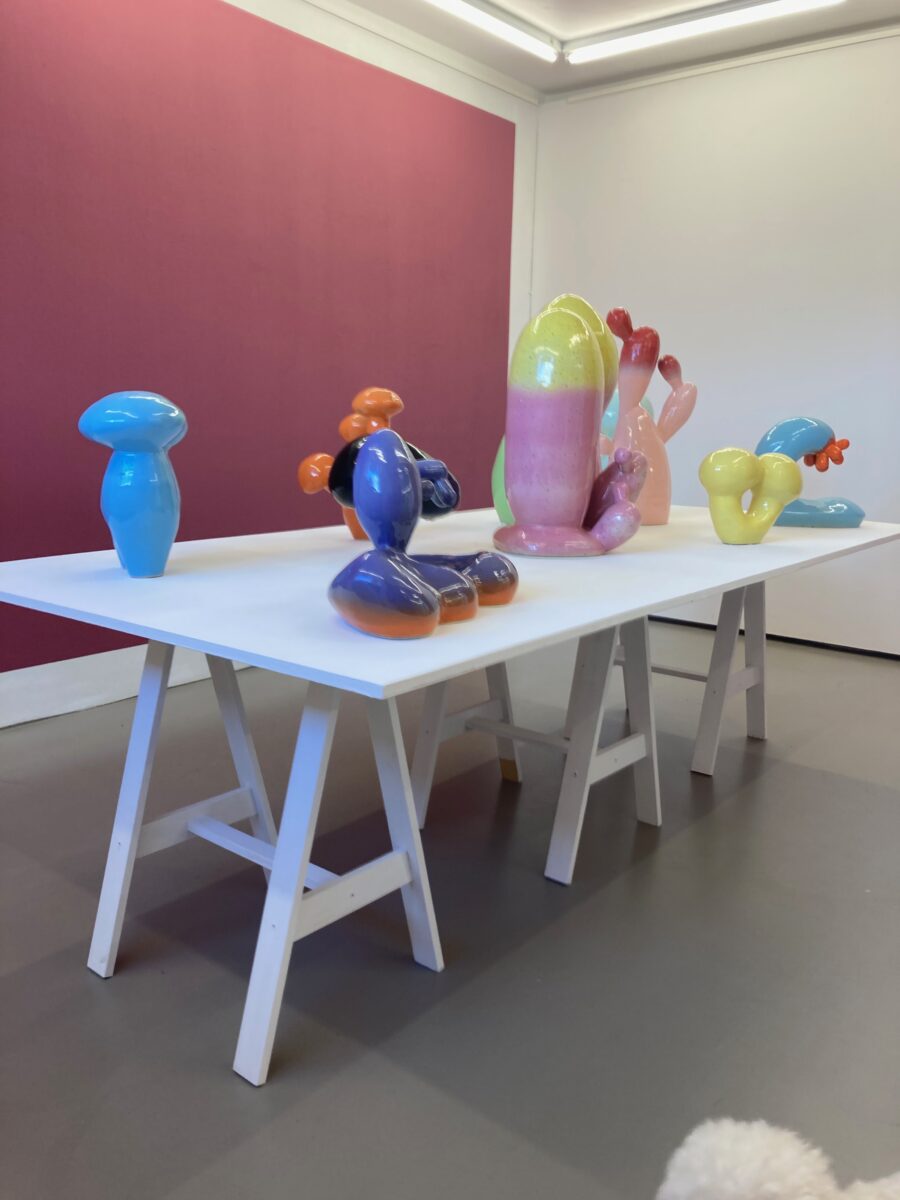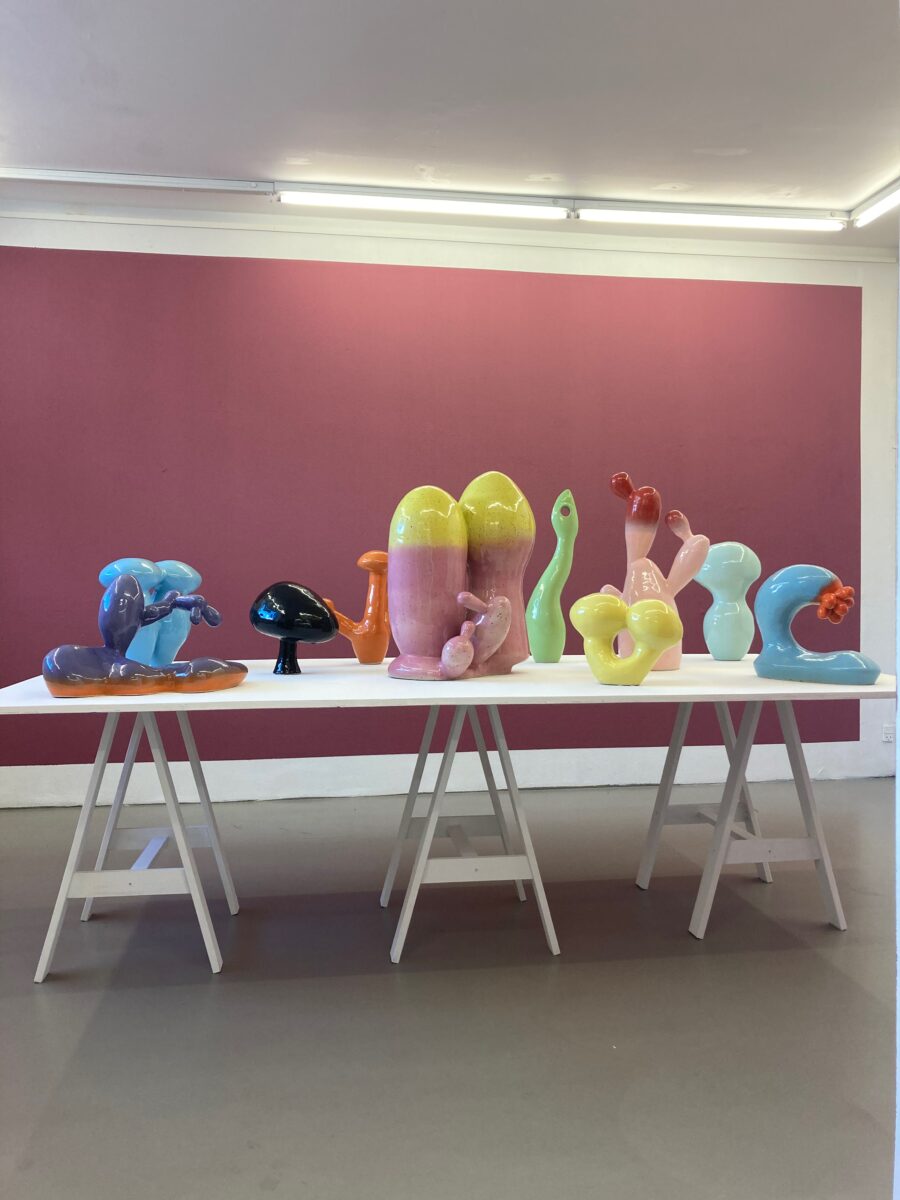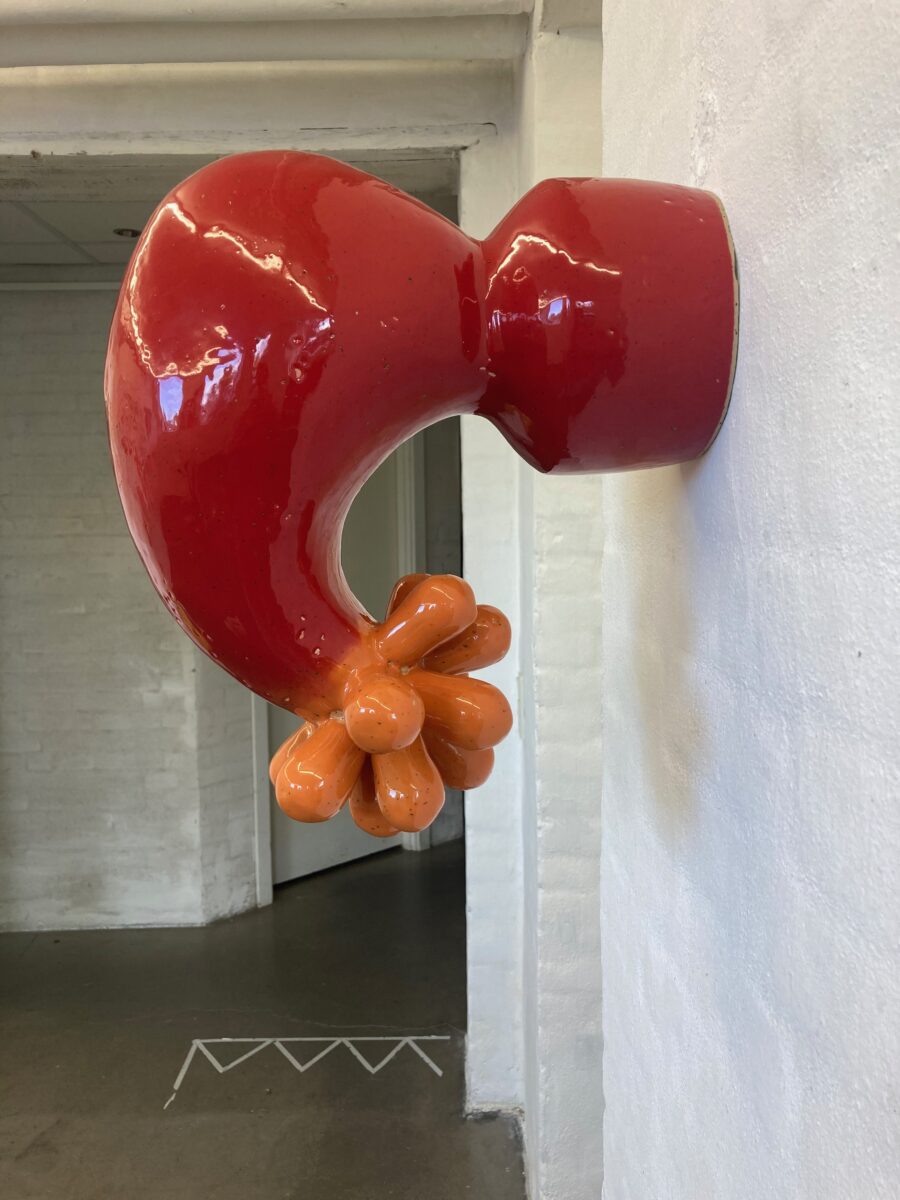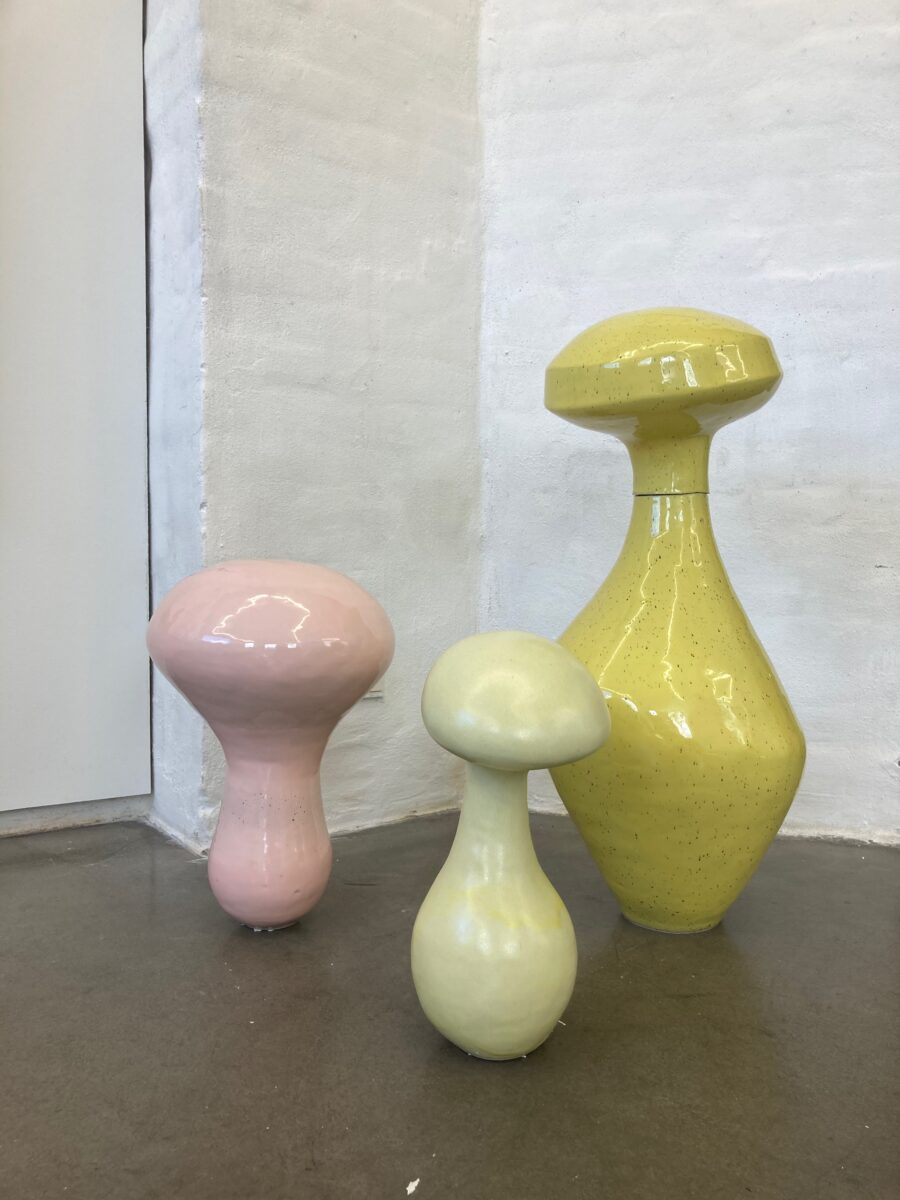 DOUBLE INTENSITY - double solo at Galleri Kbh-kunst
Art writer Connie Bose writes about the exhibition: 
Tina hvid (1965) has set out to reach new grounds with her ceramics - and with her solo exhibition DOUBLE INTENSITY she is clearly at the top of her career so far.
The sculptures stand close together - on table and floor - with her characteristically thick and strongly coloured glazes and sprout towards and away from each other in the most impudent manner.
It is truly amazing to witness such a development in an artist, when just a year ago you witnessed a somewhat simpler expression.
Tina works with abstract, organic sculptures where the concept of growth is illuminated in this exhibition and she has succeeded SO well!! The many sculptures look great with the coloured walls working as background and thus the two back rooms of the gallery become an installation in its entirety; a playground - a candy shop, where it is difficult to choose.
Gallerist Helle Borre also states: "Tina has been working hard with the ceramics during the last year and some fantastic elaborate and colourful sculptures have come out of it"
Painter Hanne Schmidt writes: "I would like to recommend Tina Hvid's exhibition. Lots of huge, ceramic works. Fantastic shapes and colours. They occupy the space and do their solo task with flying colours - if you ask me, but come and judge yourself".
Kunsternes Sommerudstilling 2022 - one of the five state-recognized censored art exhibitions.
This year the censors received 1497 works, 83 were accepted, including my five ceramic sculptures.
Anne Grethe Sværke, manager of Janus, states to JV WEEKEND: 
"The ceramic lidded jars by Tina Hvid are smooth and almost perfect in expression. With their brilliant colours, the jars actually differ from several of the works at this year's exhibition, where especially the earthly colours recur in the works". 
"In setting up the exhibition, the censors have focused on contrast and themes. For example, in the same room as Tina Hvid's ceramic sculptures, fabric suits by Sebastian Hvalsøe Jacobsen are displayed, and despite the contrast in material and colours, they nevertheless are in harmony with each other due to their organic shapes and structures."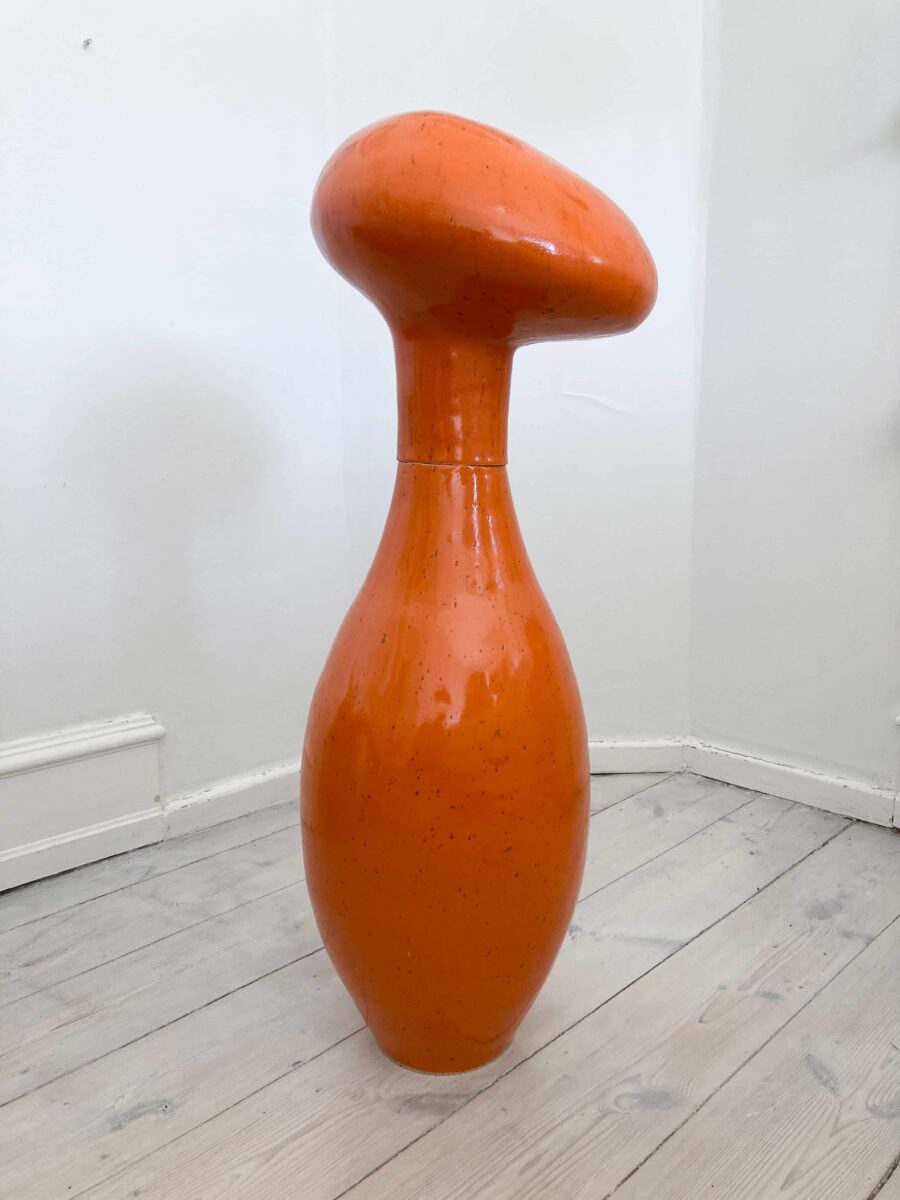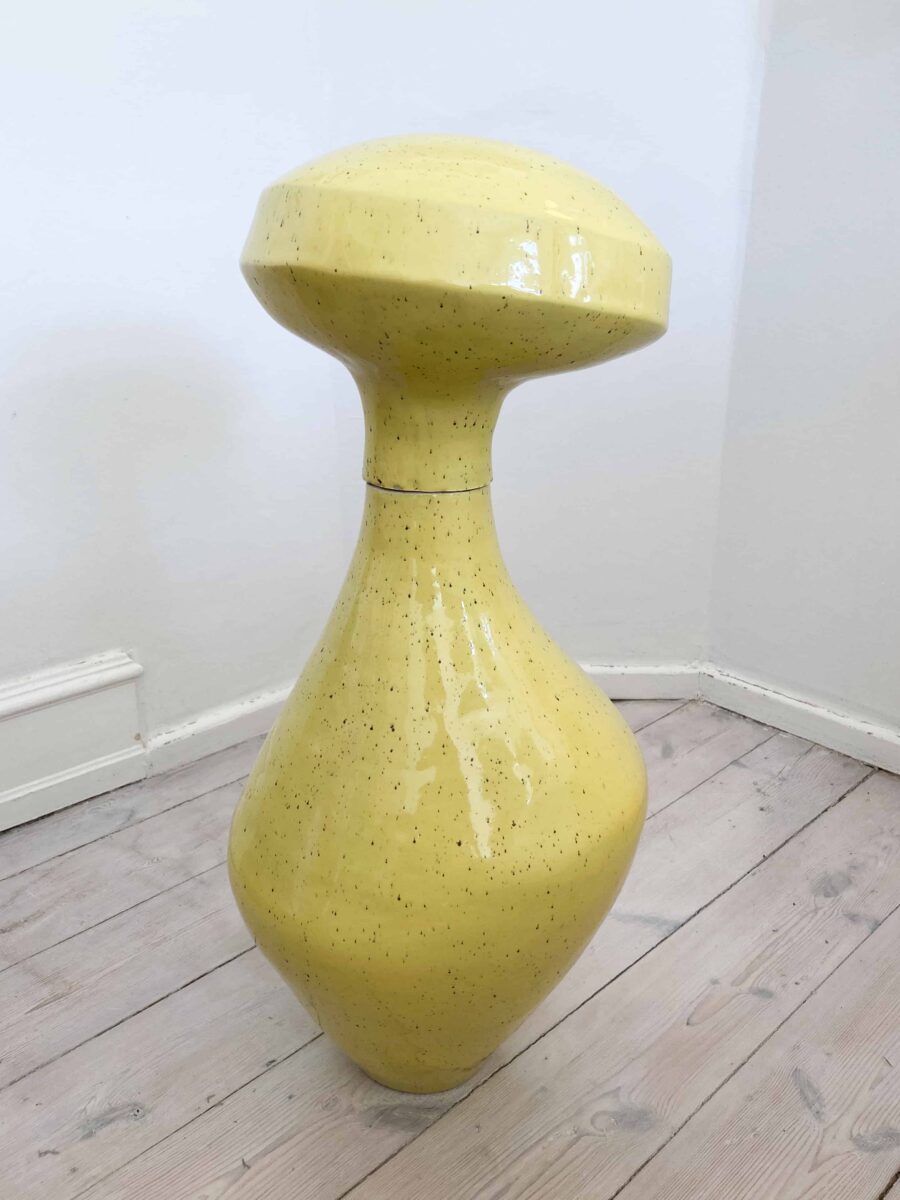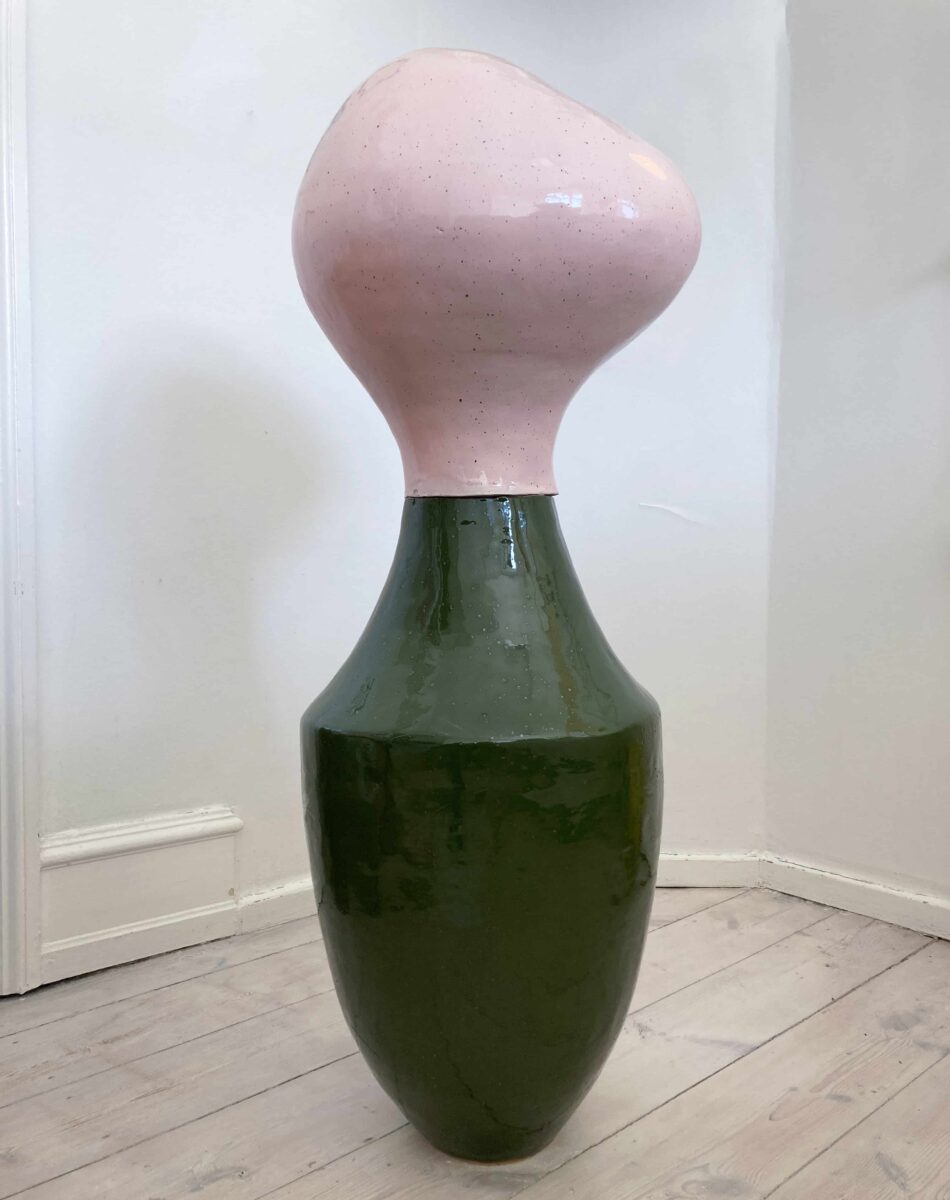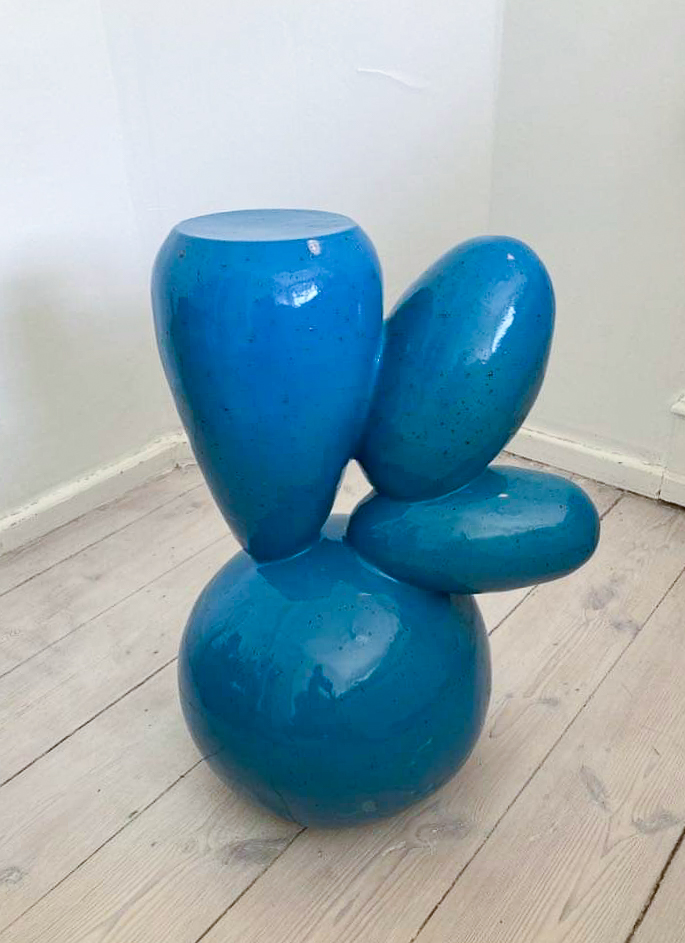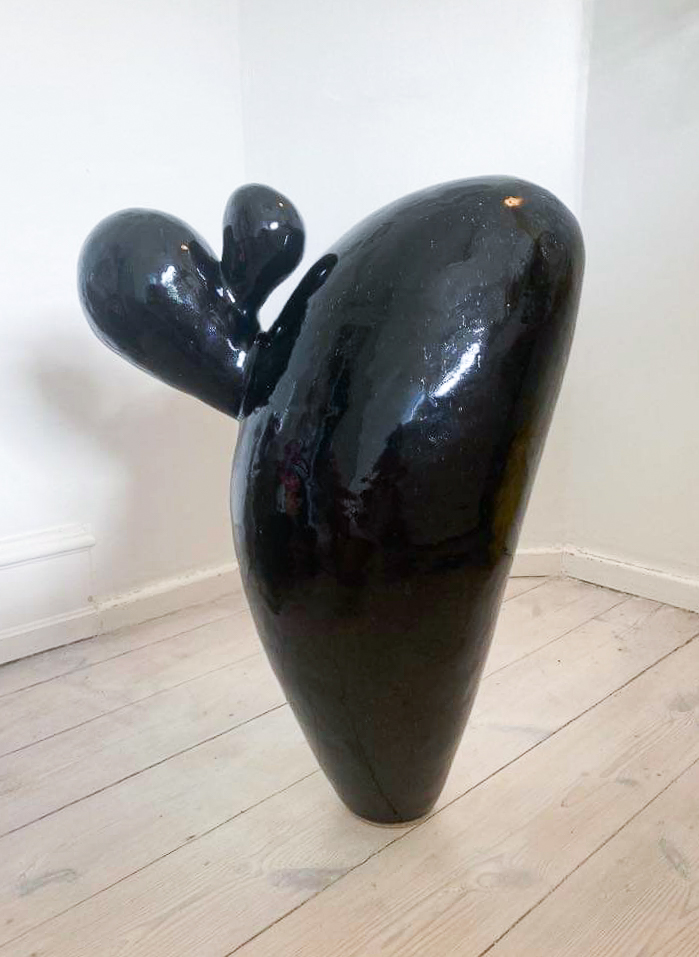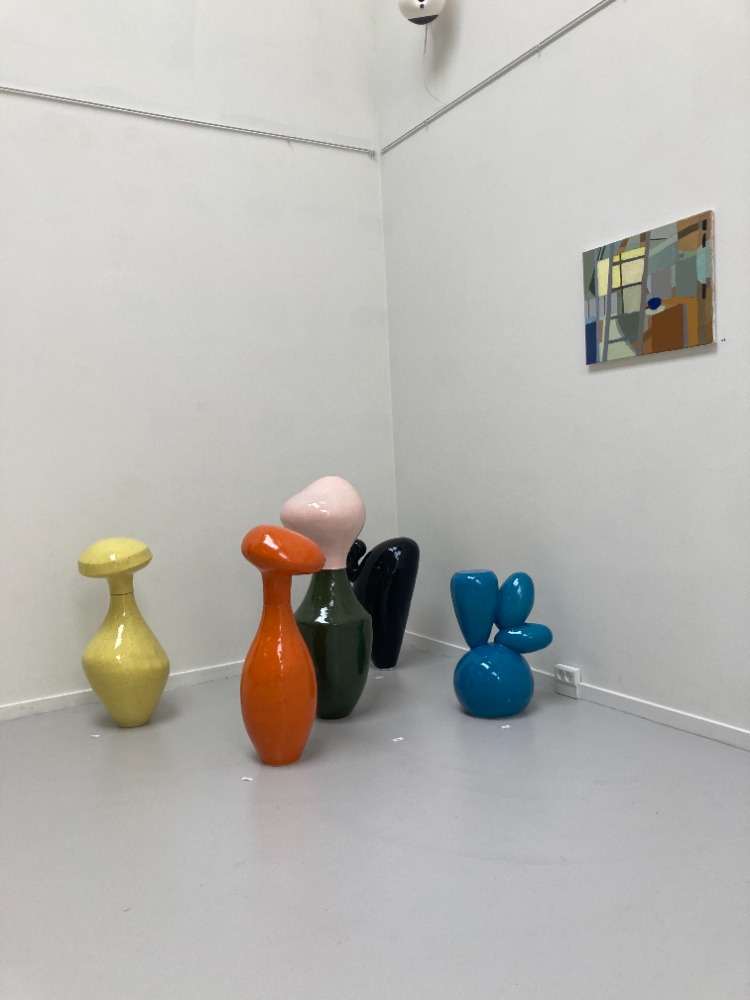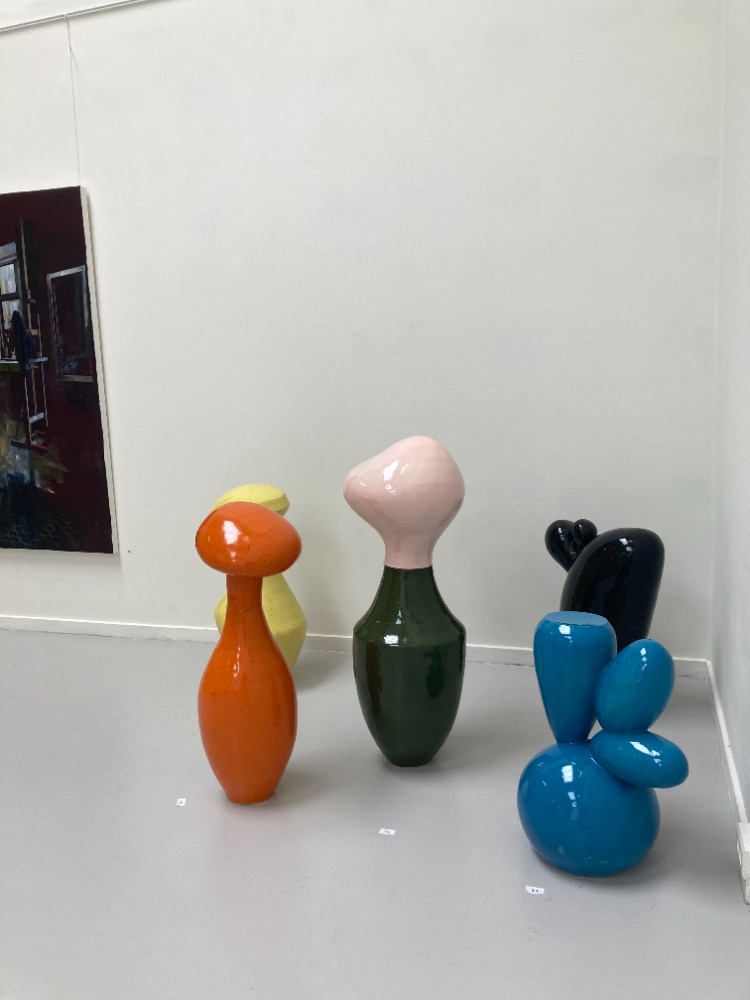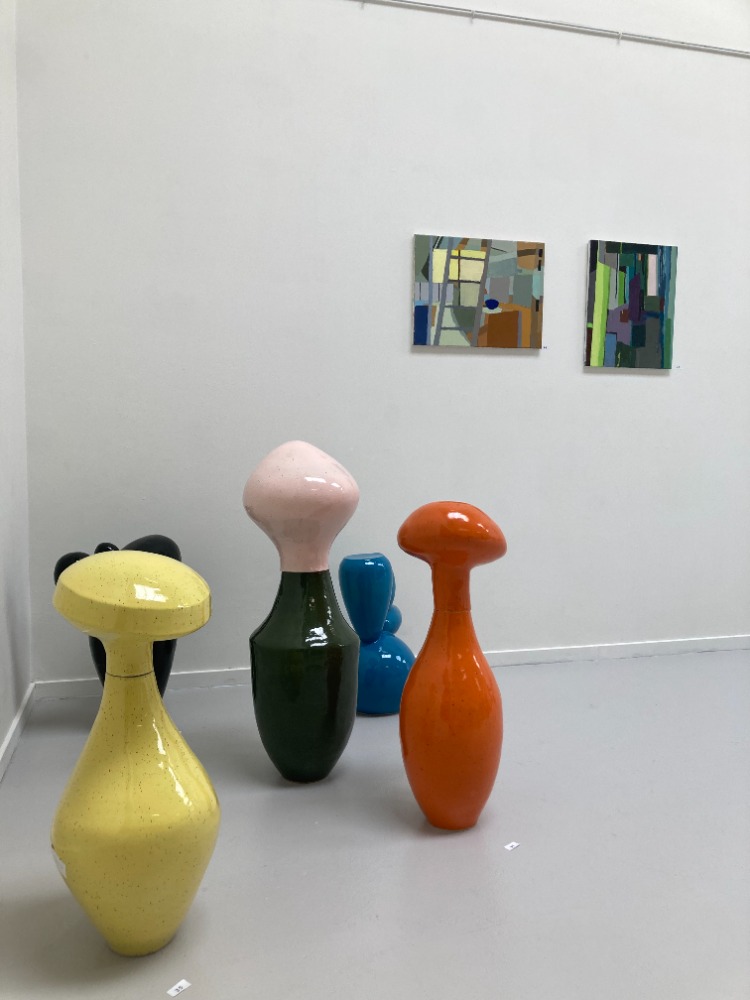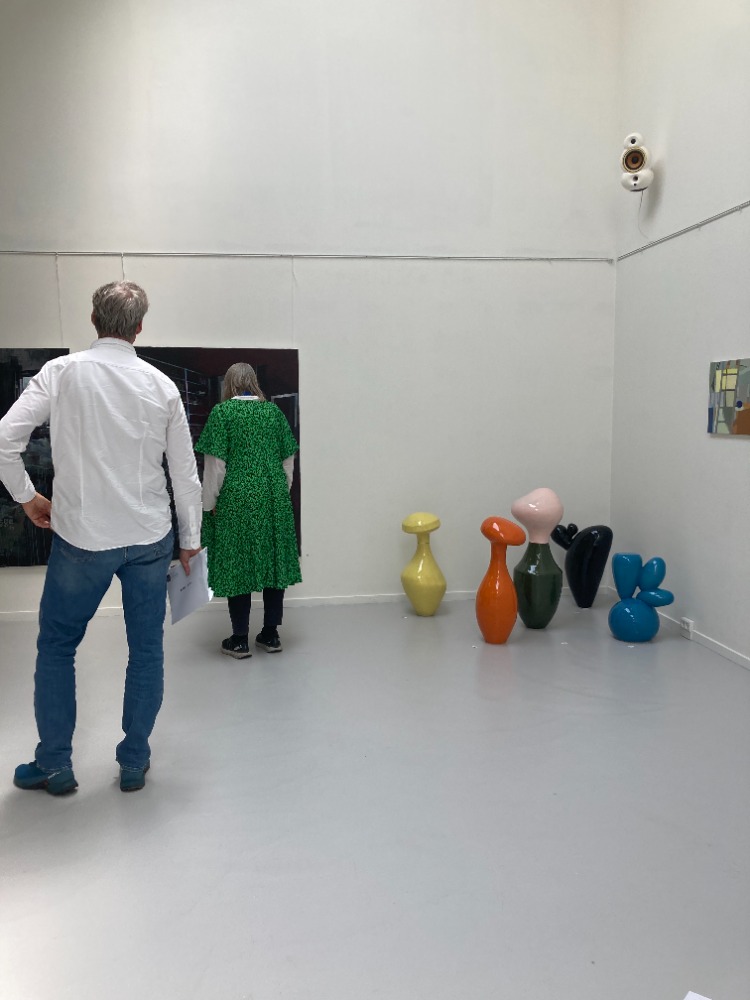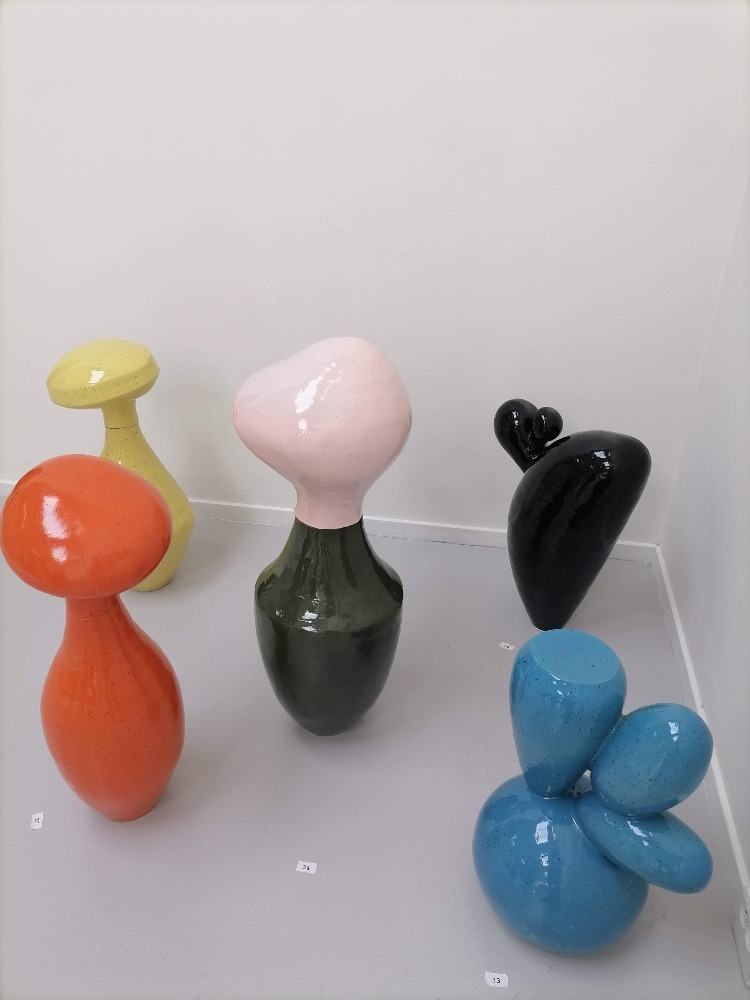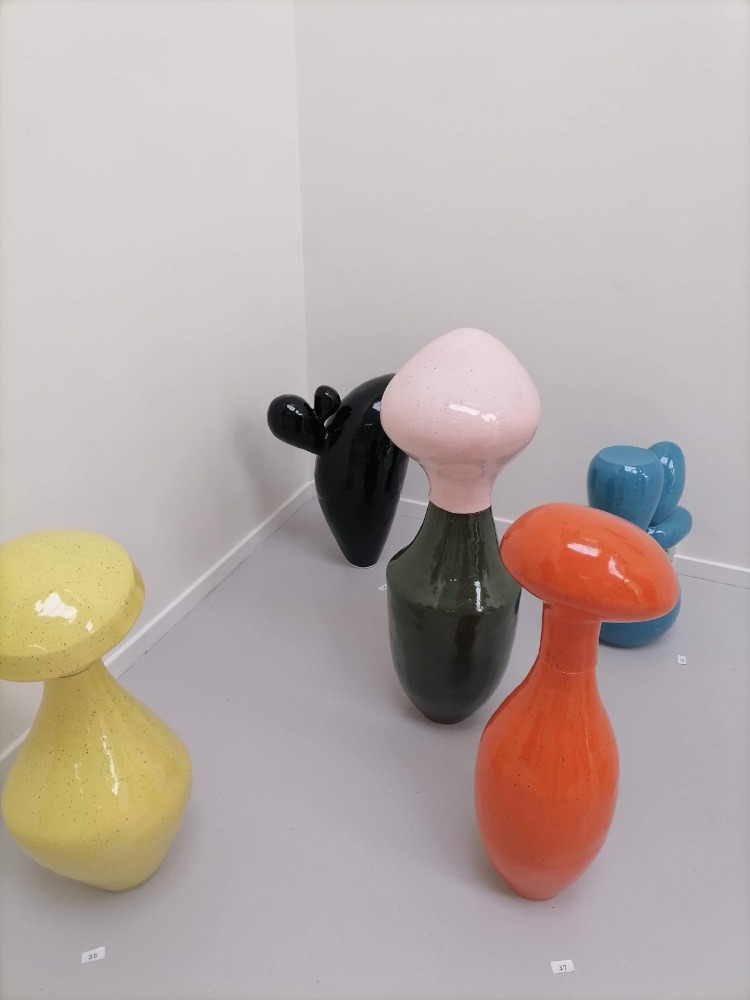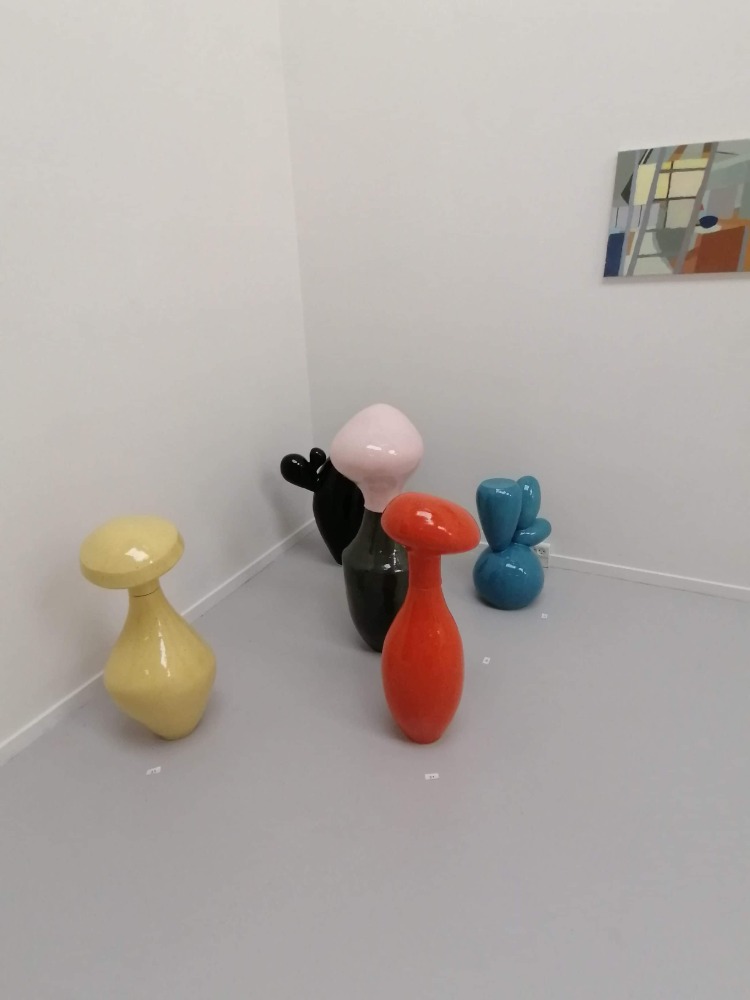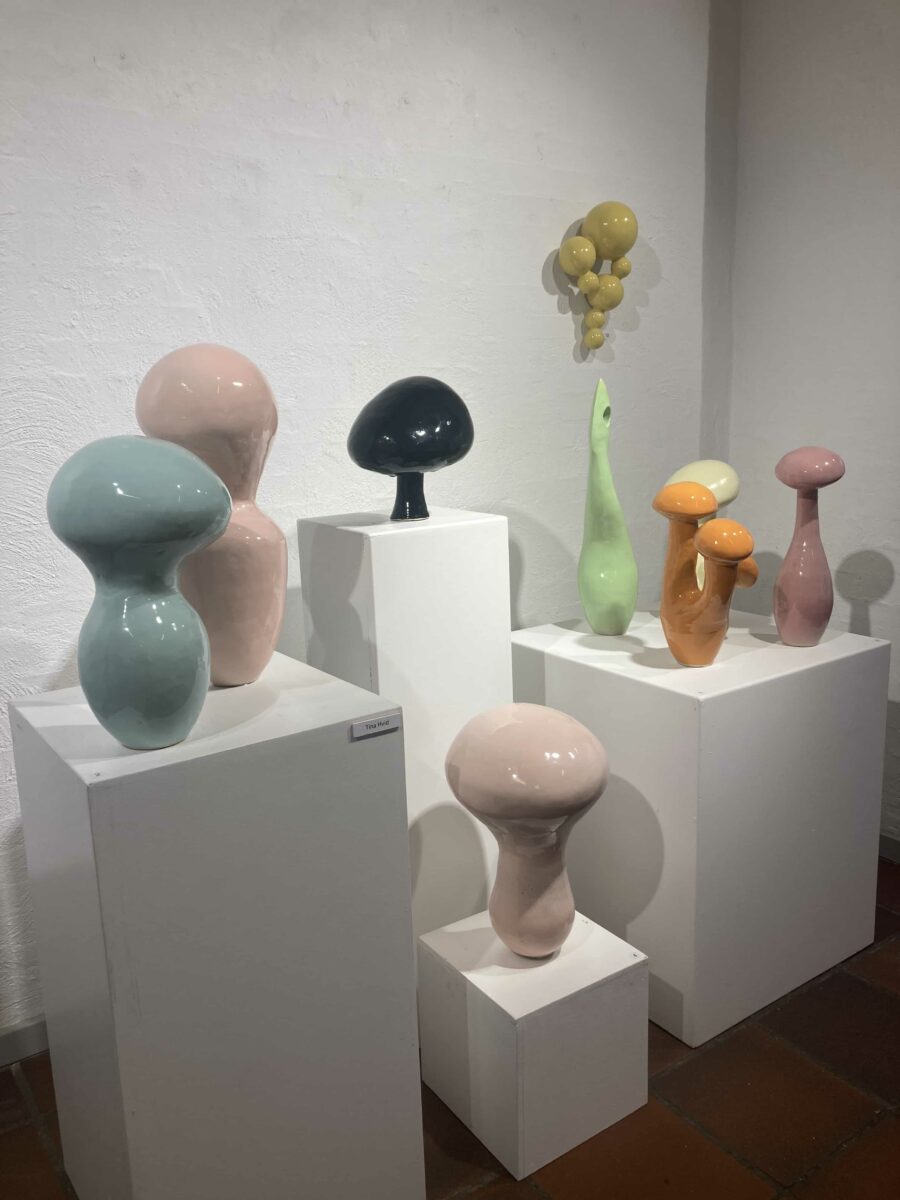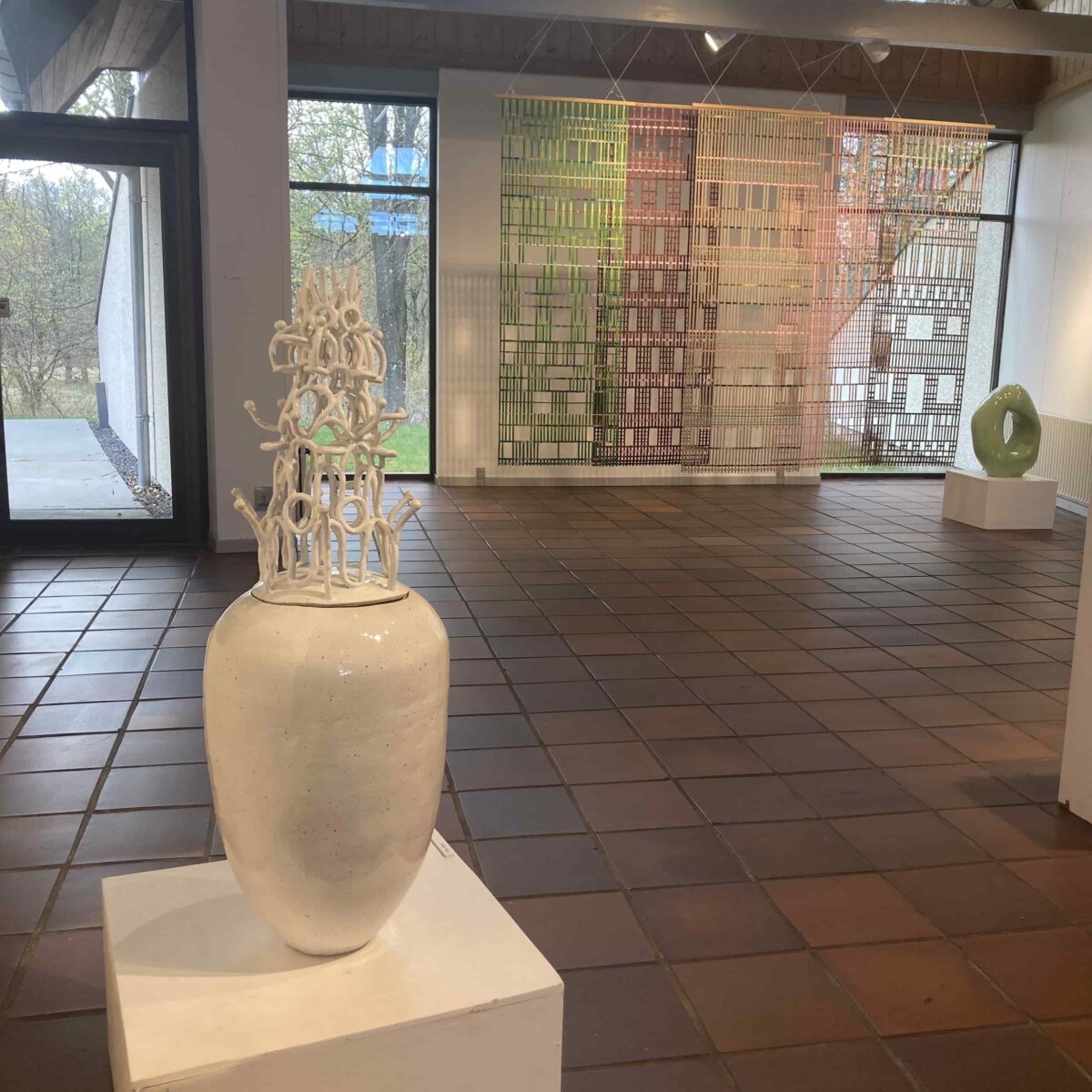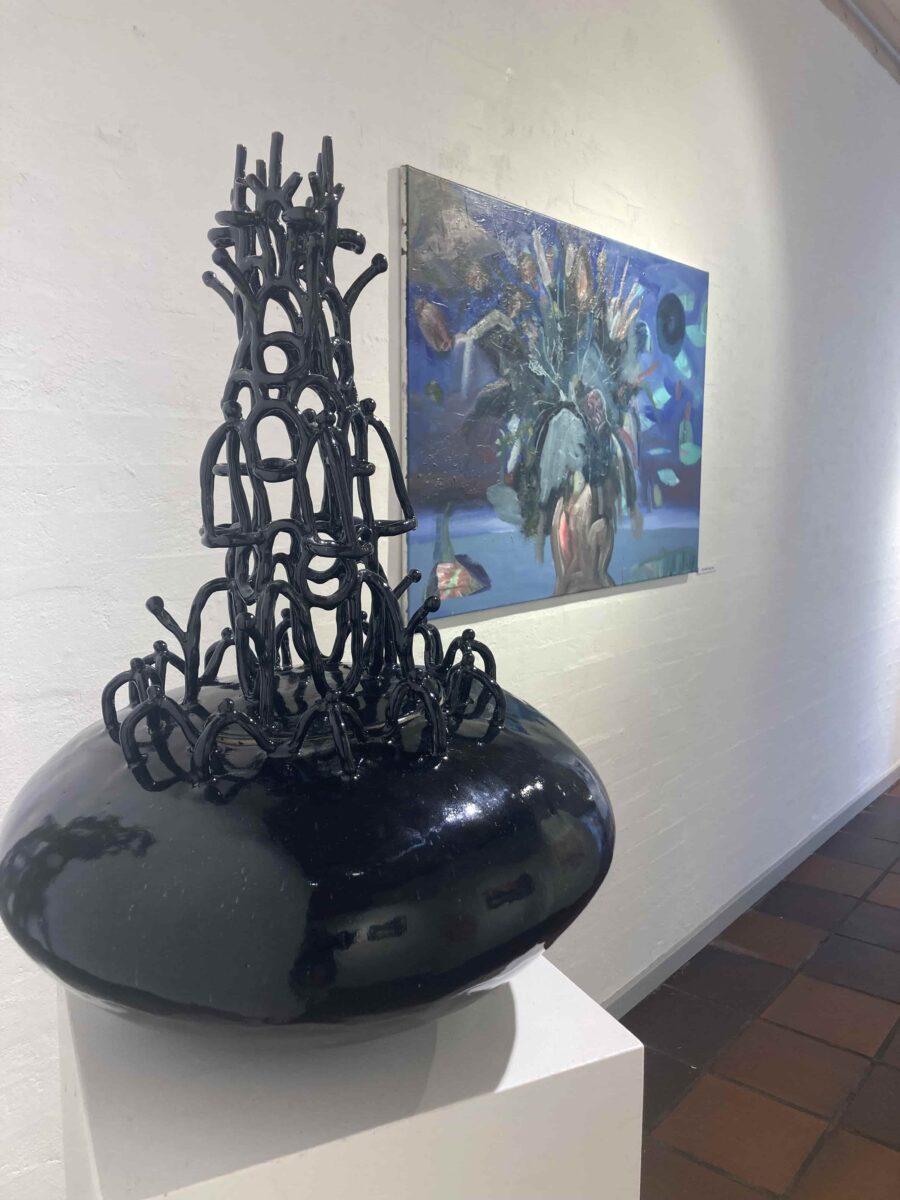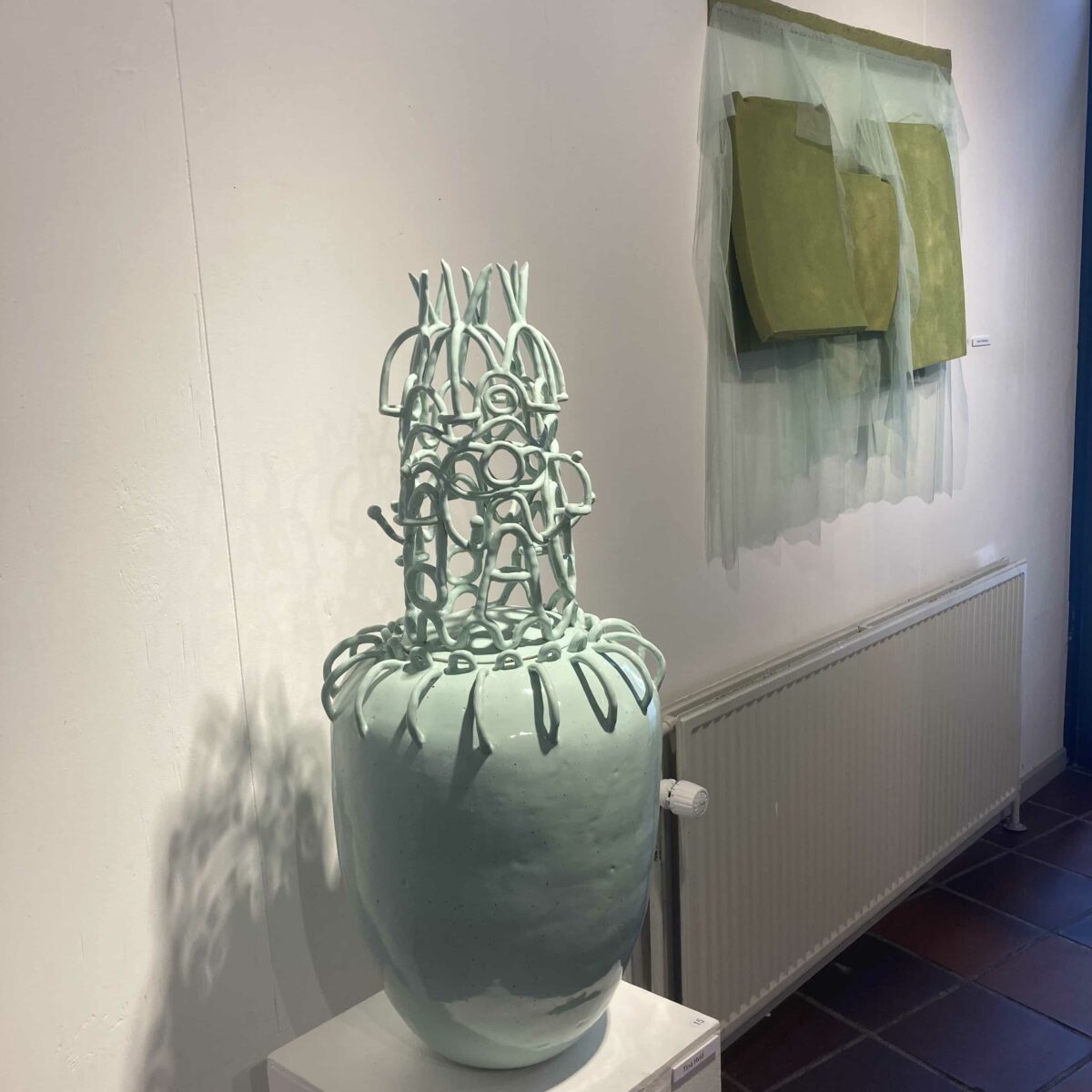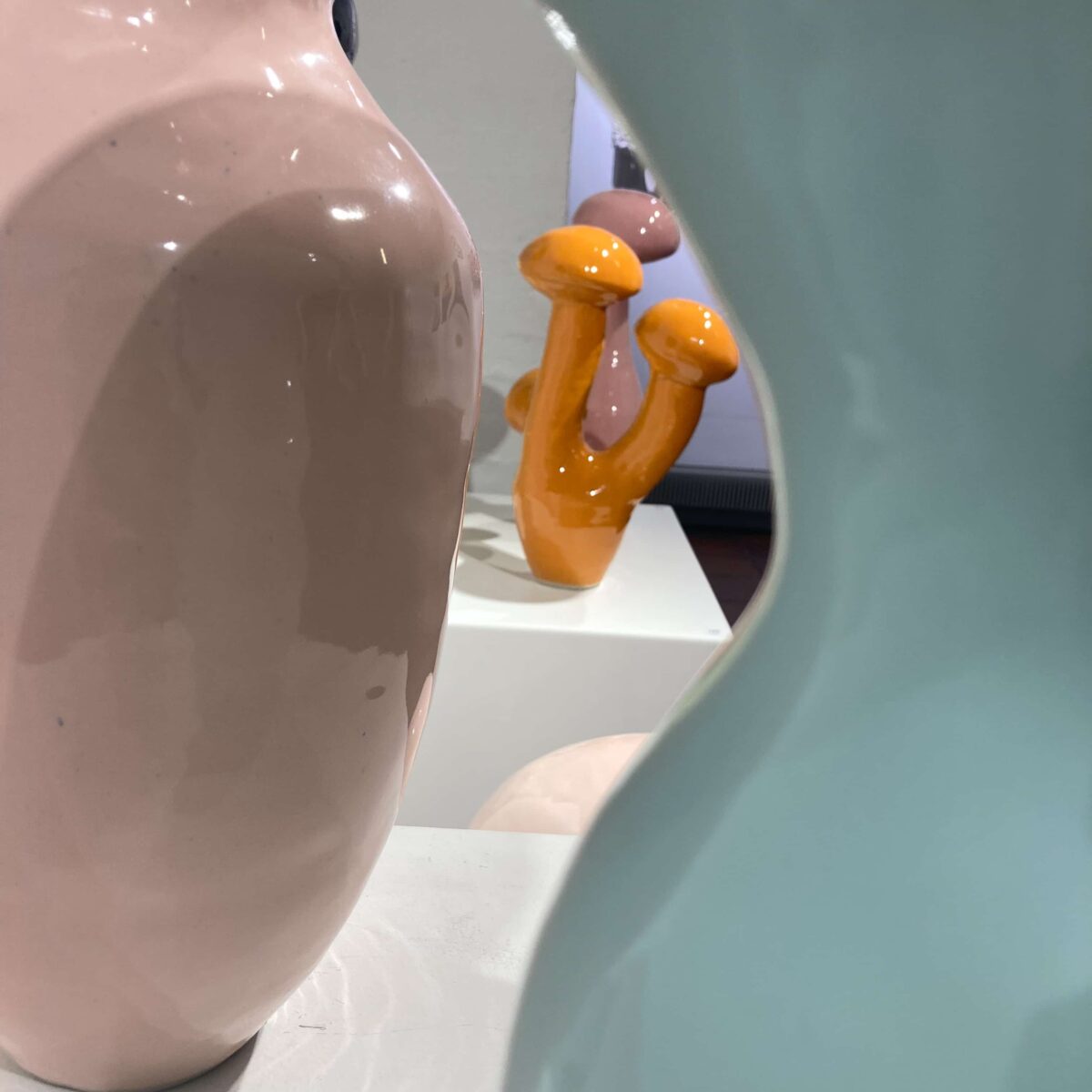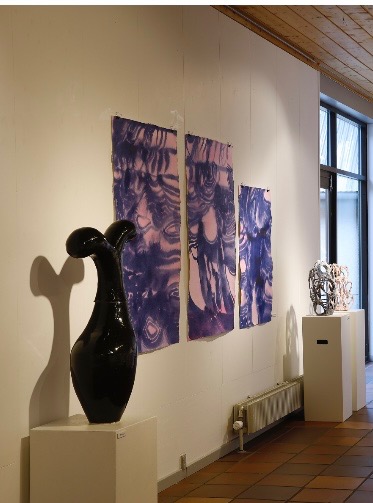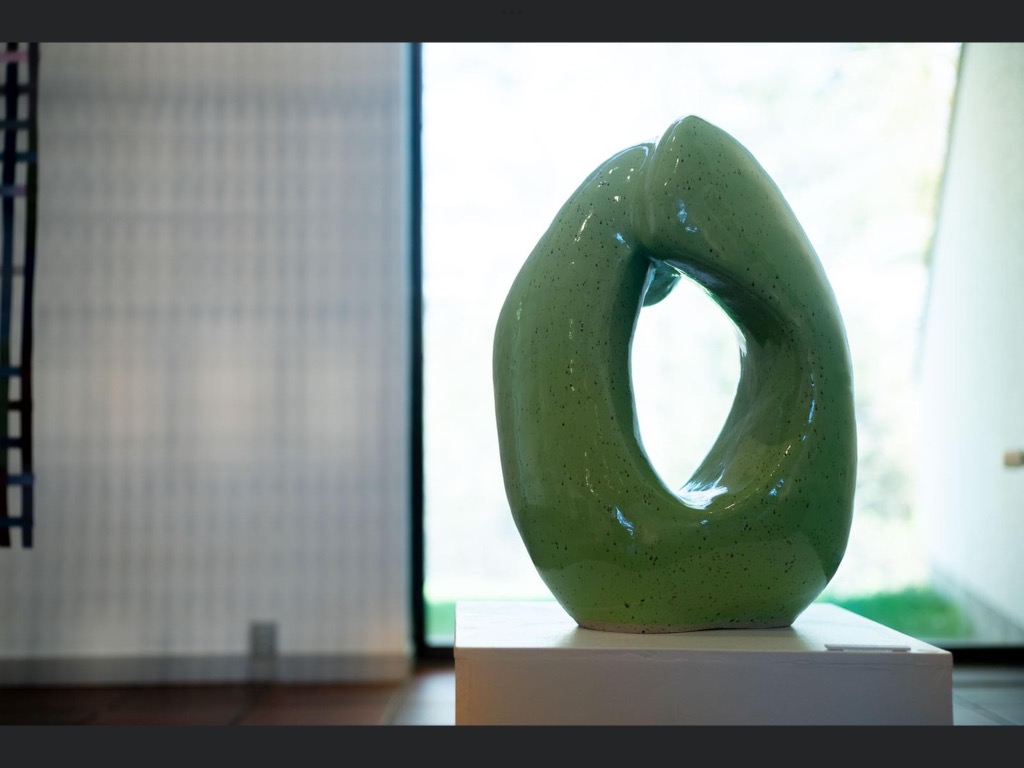 The exhibition "Transparens" at Dronninglund Kunstcenter gets four stars from culture journalist Max Melgaard, who writes, among other things: ……."The art exhibition "Transparency" is a very large and overwhelming exhibition….". Do go and see it, because "Transparency" is not something you see every day".
About my works he writes: "Tina Hvid presents 17 works in stoneware. Some have titles, some have not. But it's not titles that gives you a clou about the motive, because the many sculptures mostly remind you of large, shiny mushrooms (beech hats?). They are both pretty and whimsical".
– Quote from the article at "kulturen.nu".
In Kunstavisen Grethe Hagensen writes :….."with the exhibition "Transparency", 13 professional, dedicated contemporary artist, who work within the same field and are largely related in their expression, have all in their own way dealt with the concept transparency in their works".
She writes about my works. "Tina Hvid presents sculptures that in many ways play with the concept transparency or the opposite".
Quote from the article "Art's take on transparency" in Kunstavisen….
The exhibition is curated by Connie Boe Boss and Ann-Lisbeth Albek Sanvig who is the initiator.
JOY exhibition curated by Tina Hvid
"JOY A Wonderful colourful exhibition is going on right now. Når Galleri Kbh-kunst inviterer indenfor til gruppeudstillingen JOY venter der publikum en oplevelse, der først og fremmest skal tages ind med sanserne. De fem deltagende kunstnere arbejder nemlig alle med at udtrykke stoflighed, taktilitet, sanselighed i form, farve og materiale. De fem kunstneres værker klæder hinanden ualmindelig godt. Godt kurateret af Tina Hvid. Udstillingen fungerer, og den hylder at du tager kunsten ind med sanserne og nyder form og farver og ikke forsøger at intellektualisere værkerne eller lede efter et koncept. Udstillingens kurator, keramiker Tina Hvid, siger; "Det handler om den fornemmelse, jeg får, når jeg sanser værkerne, den stemning, der opstår i mig.""
– Quote from Coboboblog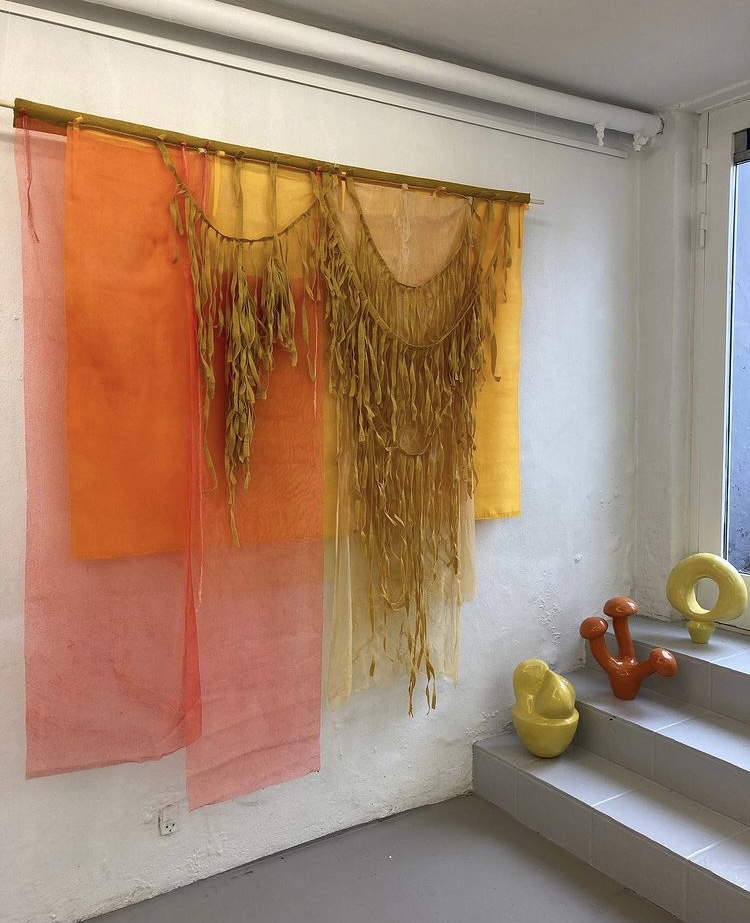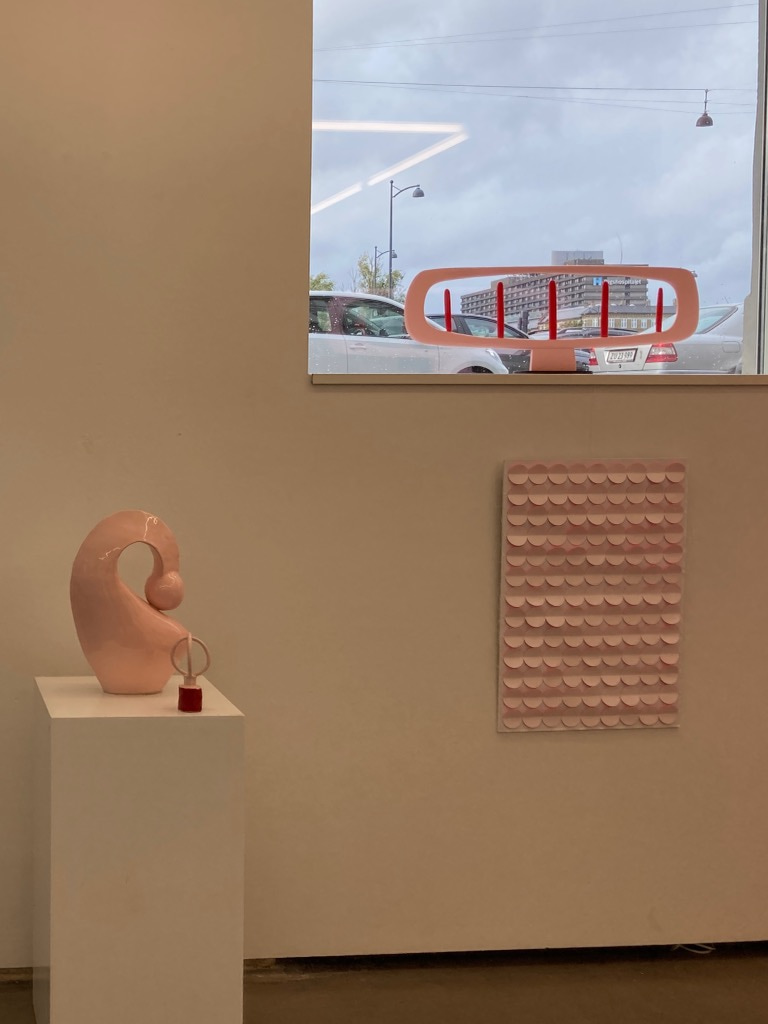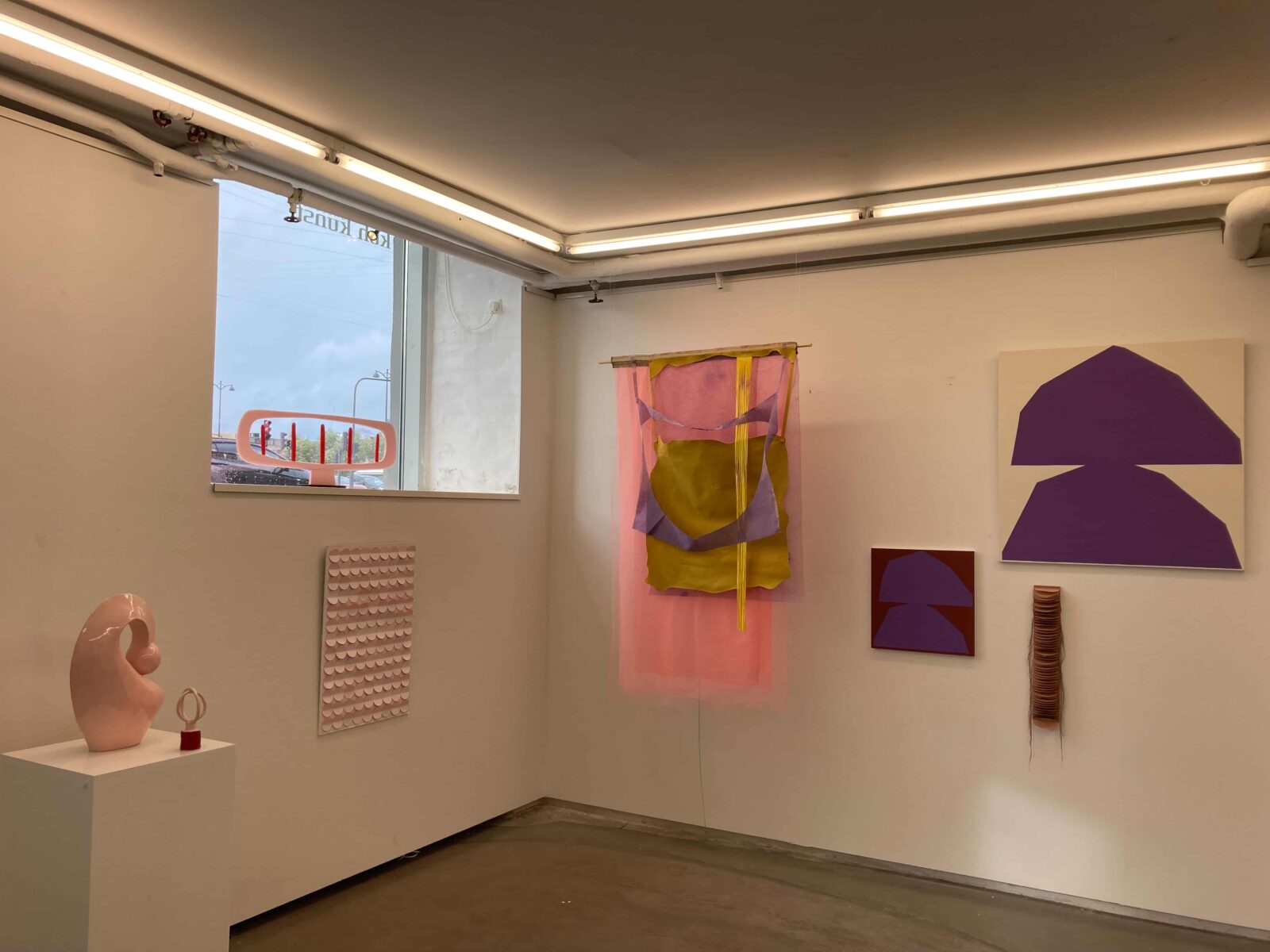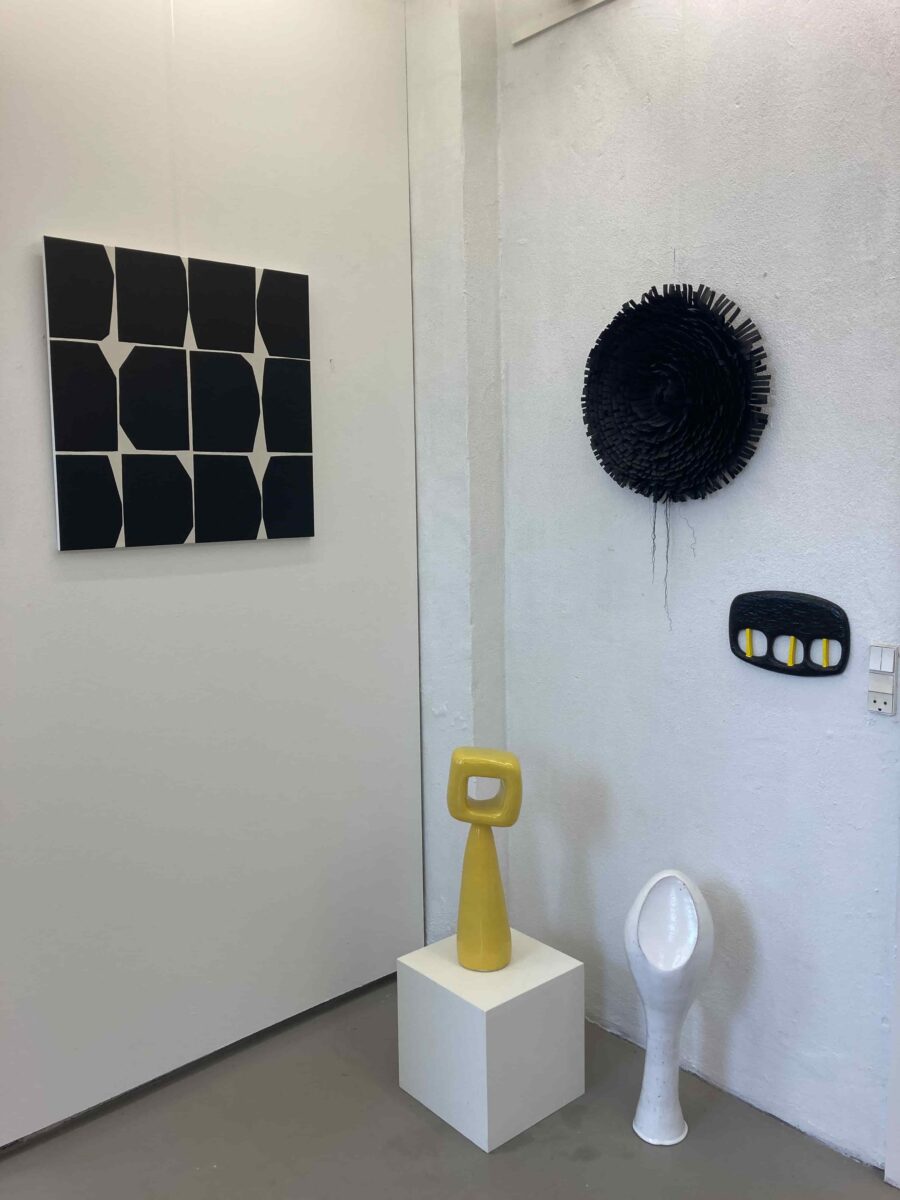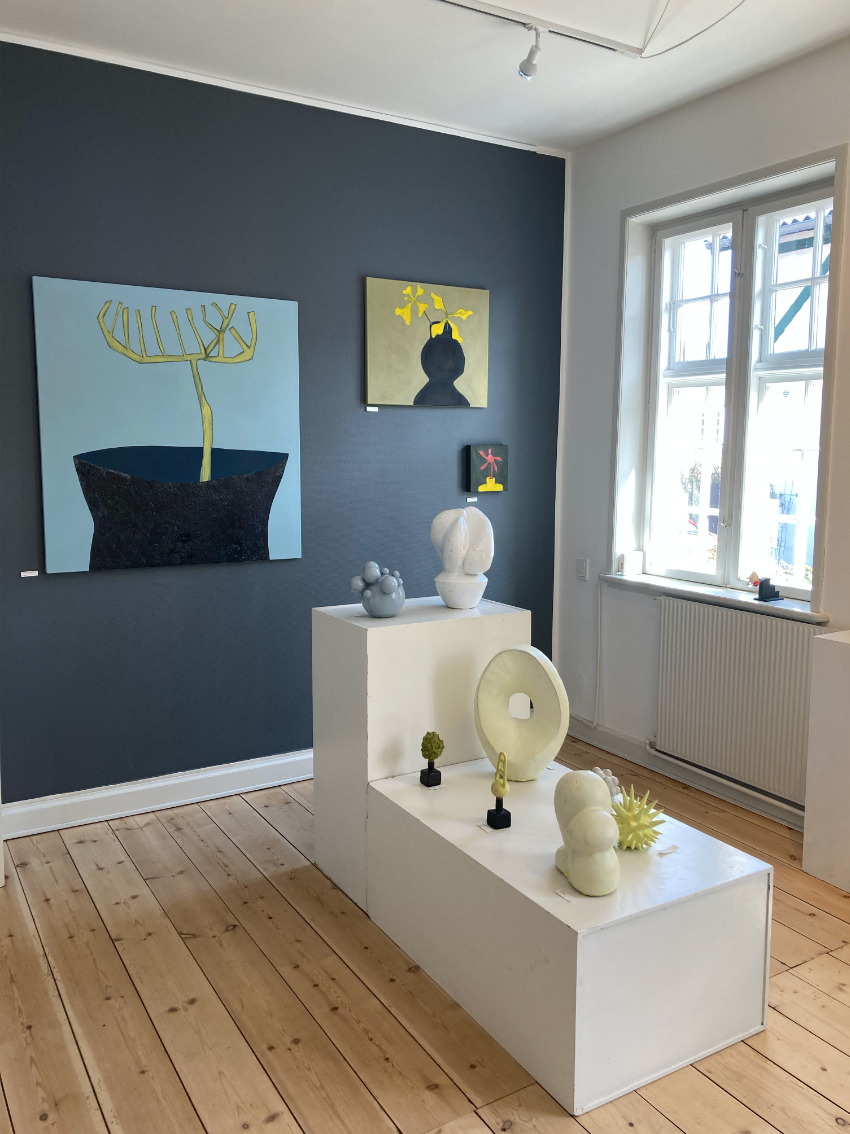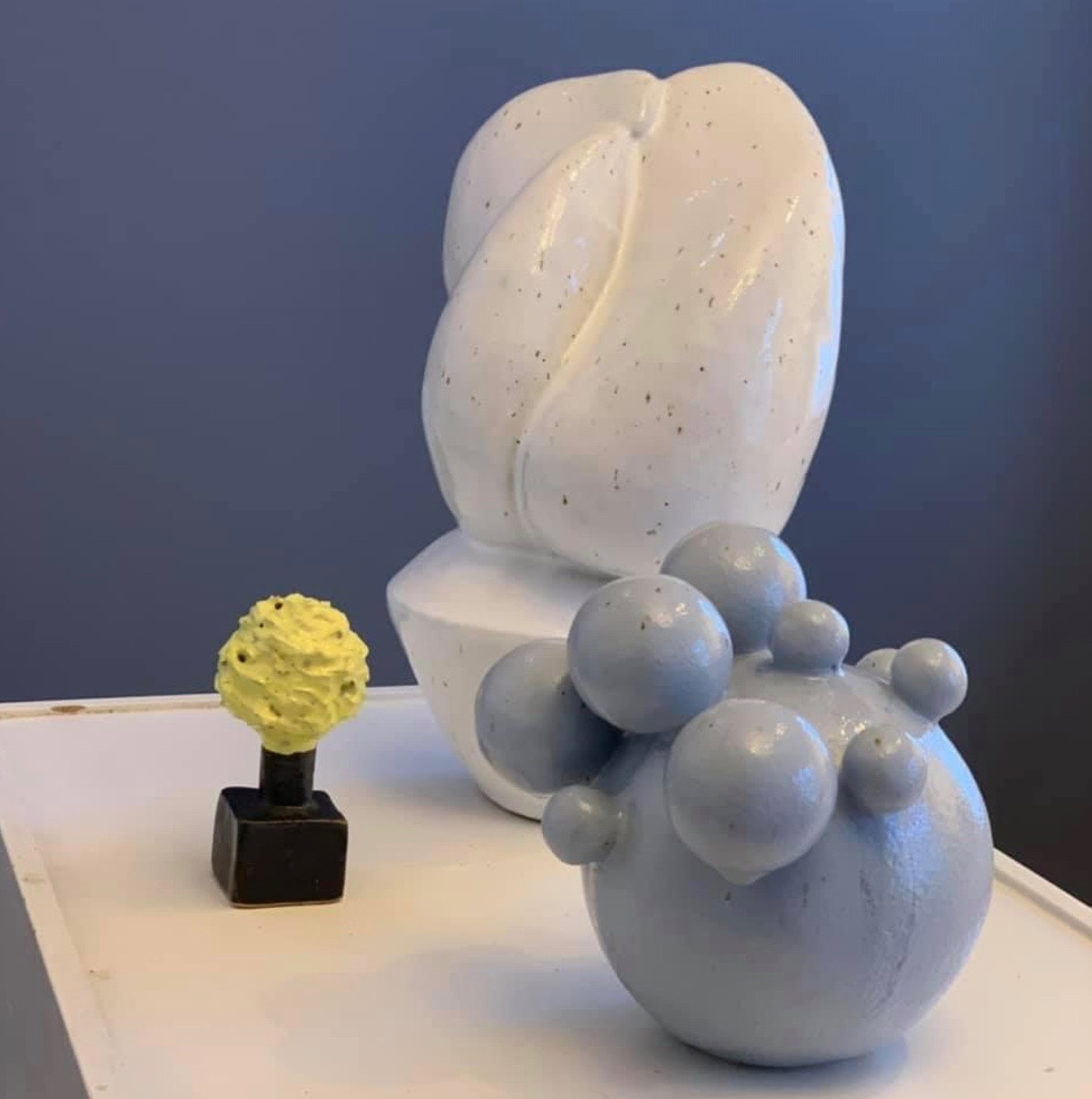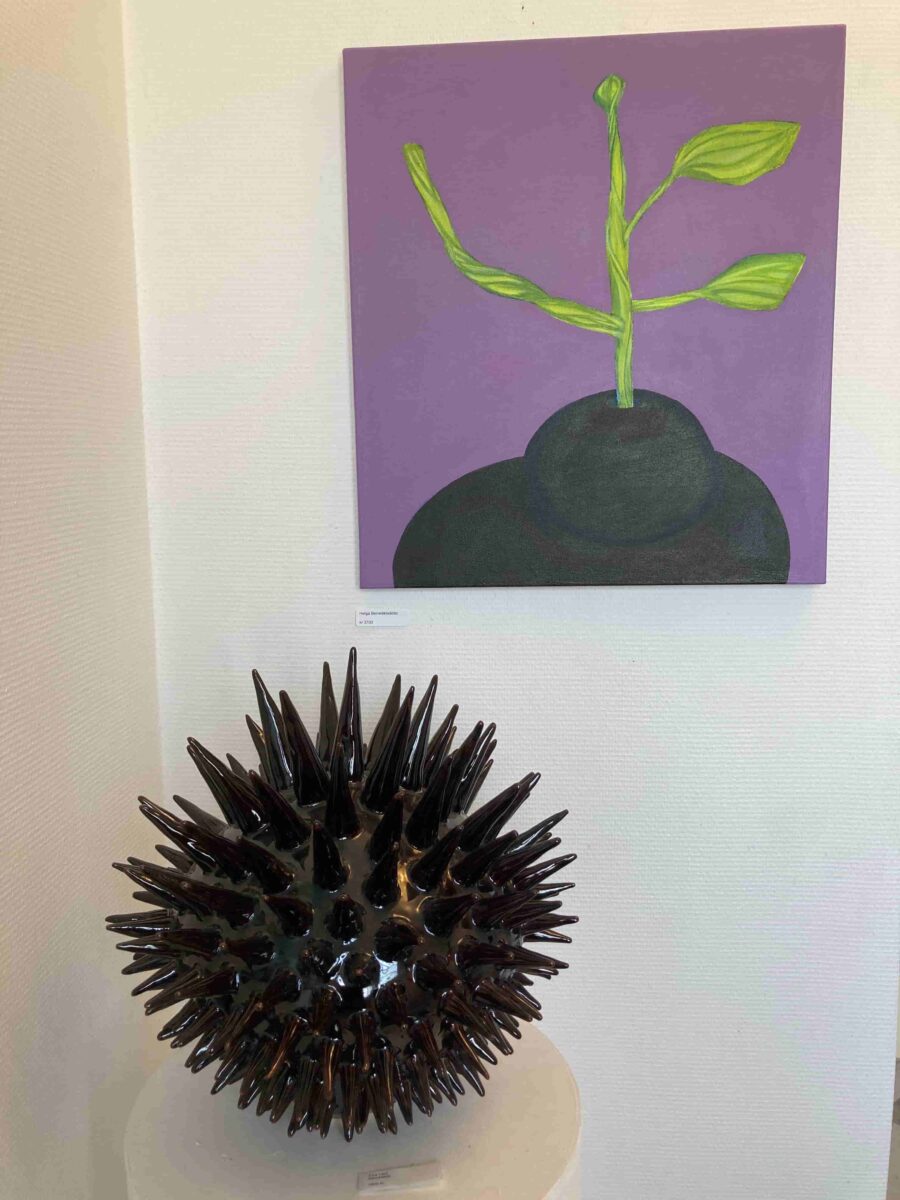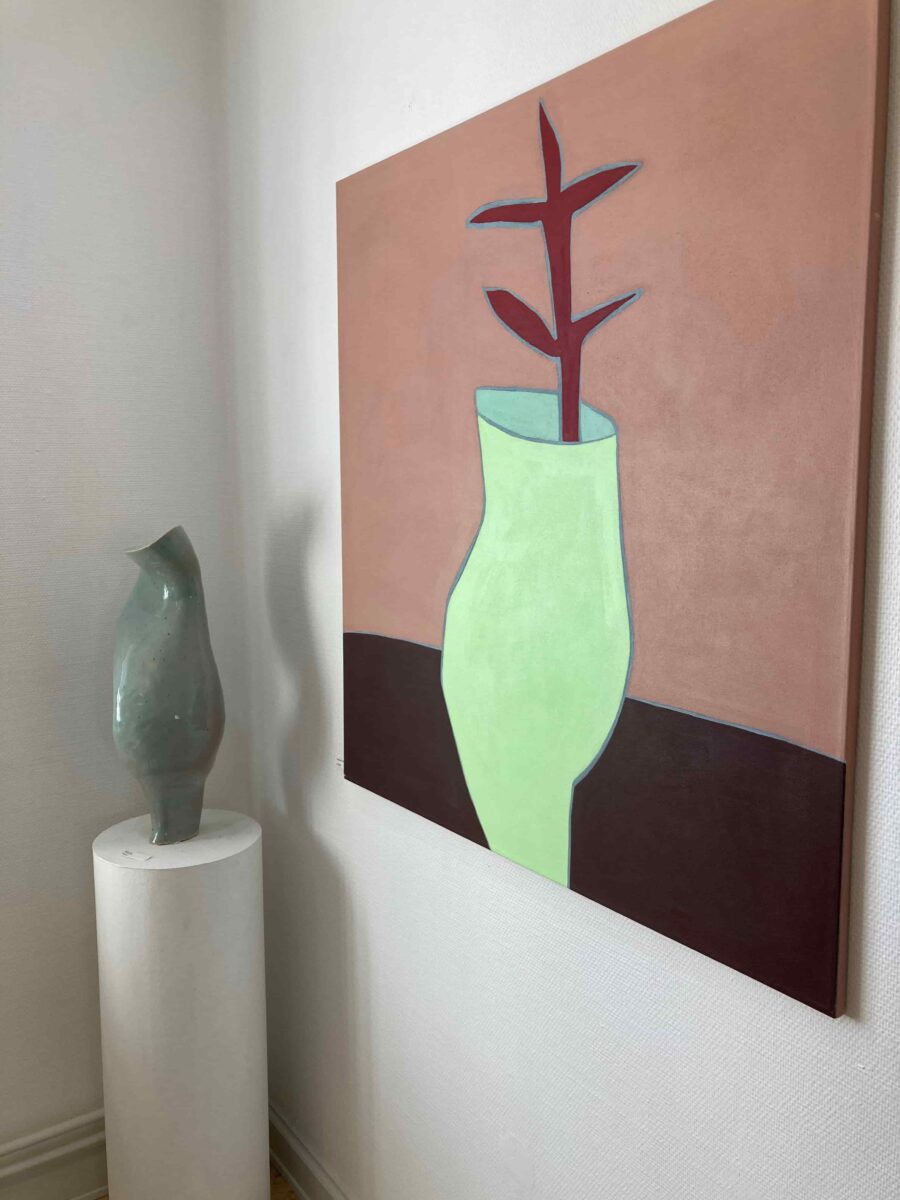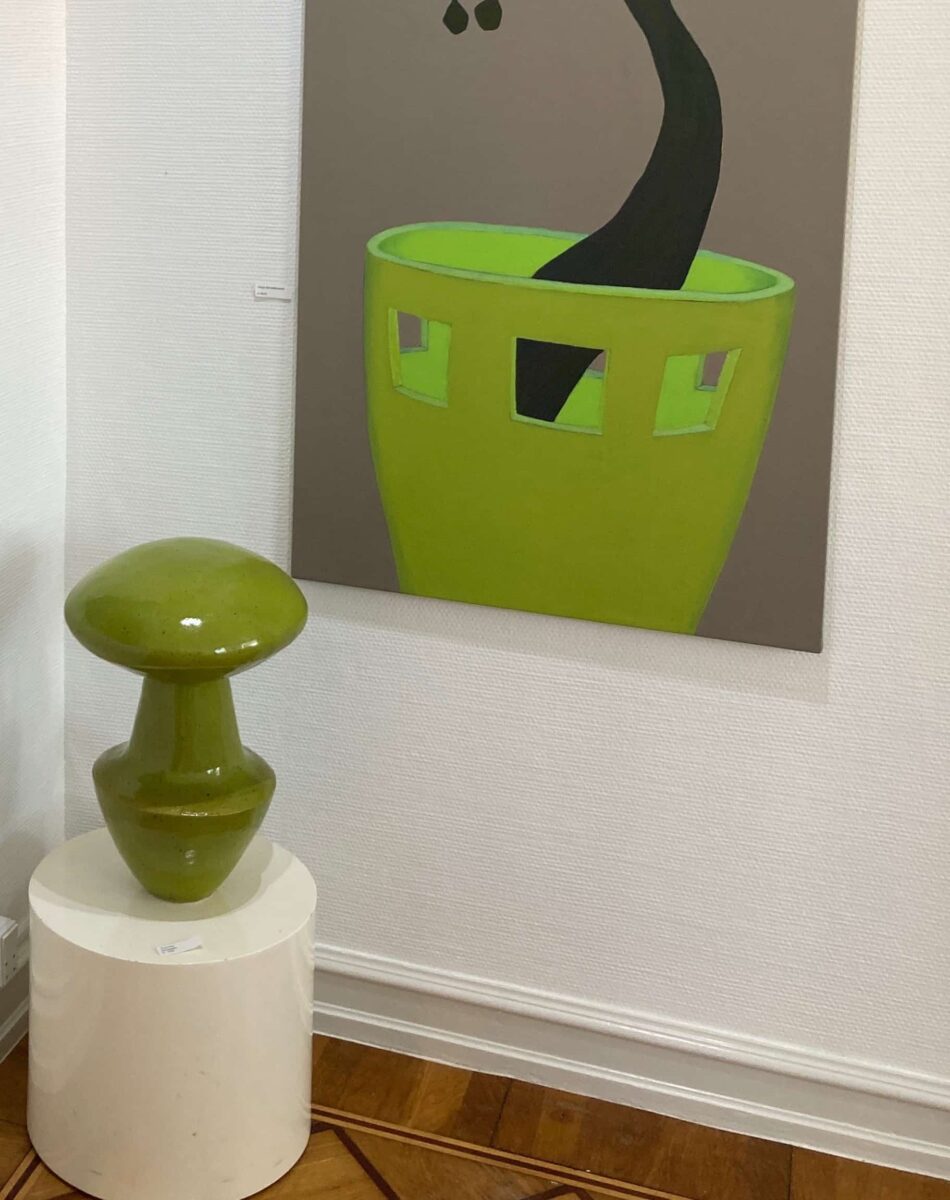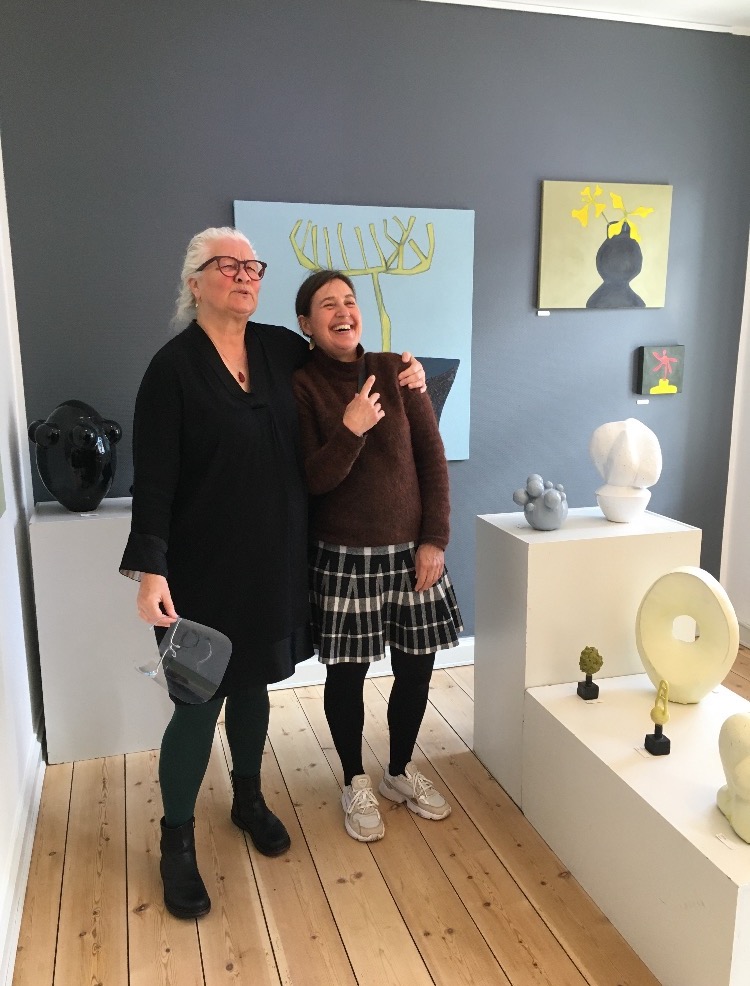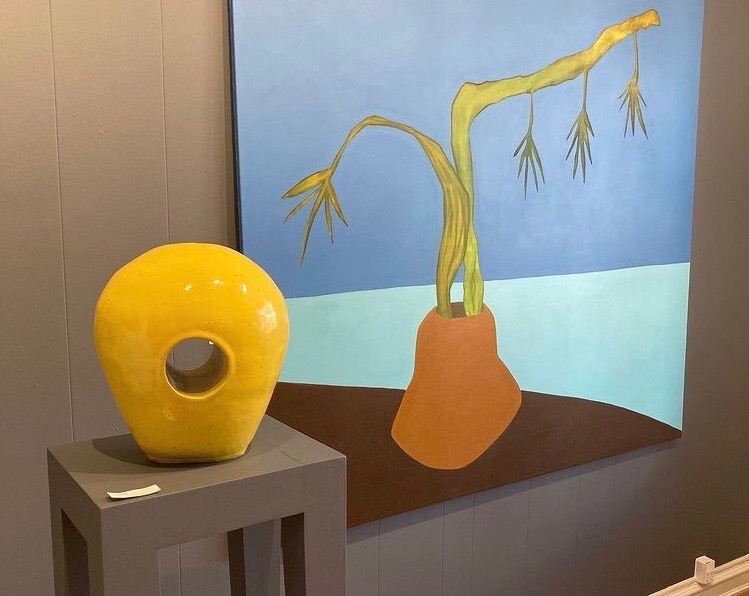 Spring exhibition at Galleri Korinth
"Beautiful simplicity. Paintings by Helga Benediktsdóttir and ceramic sculptures by Tina Hvid. A match that suits each other extraordinarily well.
Helga's paintings are unpretentious. Often the motives are plants in pots or elements from organic shapes – simple in choice of colour and figuration, almost graphical. The more I look at them, the more I like them.
Tina's sculptures these years are changing from exhibition to exhibition. An artist who is undergoing rapid development and on her way towards a sharp and distinctive expression, which is about balancing points, simplicity and delicious glazes. The sculptures are sometimes rather sturdy and thus appear grounded in a unique manner.
It is well spotted by Galleri Korinth to match these two artists. Very aesthetic, simple and interesting."
– Quote from Coboboblog
Article in Liebhaverboligen
"One of the big trends right now is to decorate your home with beautiful works of art that can adorn the décor."
"With inspiration from the shapes of everyday life surrounding us, such as a sunbeam or a cloud, the ceramic artist Tina Hvid transforms these shapes into abstract sculptures with an organic expression. Into hand-modelled sculptures with an organic expression. In the hand-modelled sculptures Tina explores balance while simultaneously focussing on the vibrant and organic that is expressed through the shapes."
– Article in Liebhaverboligen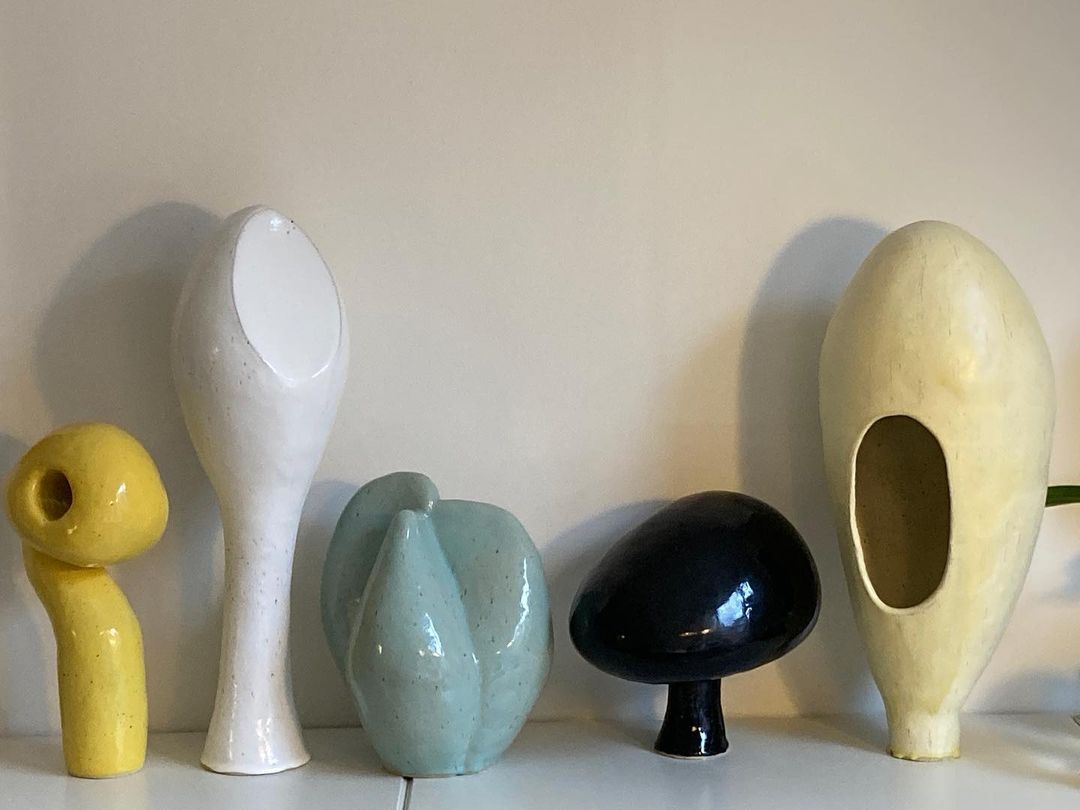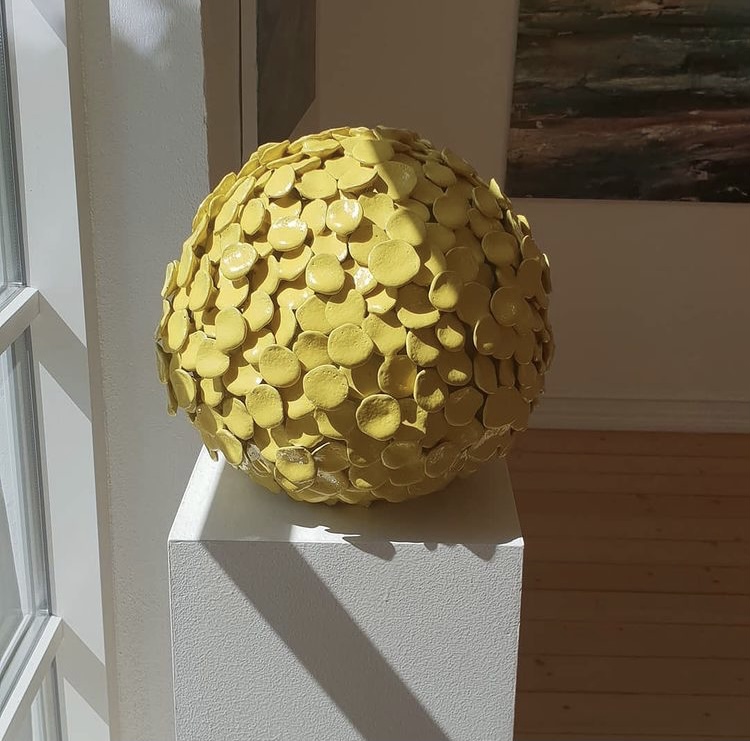 Pop up exhibition at Skagen v58
Gallery Owner's comment about the Exhibition.
"…All 8 artists are exquisitely skillful in capturing colours and light in their work of art."
– Quote from Galleri V58
"I'm happy to see it on my floor every day."
"Summer exhibition at the gallery Kbh kunst is a good mix of delicious ingredients. Once again, gallery owner Helle Borre flexes her muscles when it comes to assembling a varied, artistic and interesting group exhibition."
– Quote from Kunstavisen 05 2021
"Tina Hvid's ceramic sculptures consist of simple, abstract shapes that in combination with the very colourful glazes she uses appear aesthetic, experimental and modern."
– Quote from gallery owner Helle Borre
"…Likewise, I was attracted to Tina Hvid's delicious ceramic abstractions…"
– Quote from Kunstnovicen, Instagram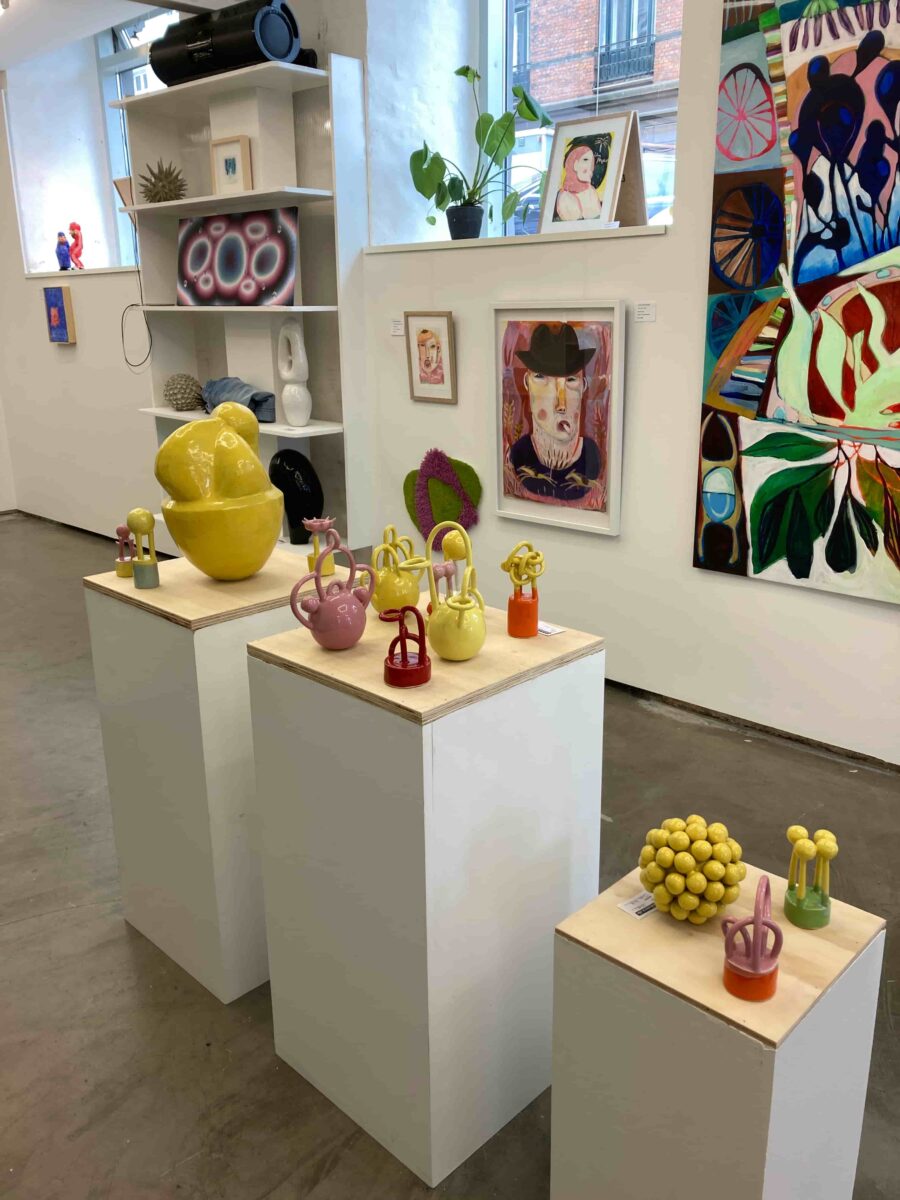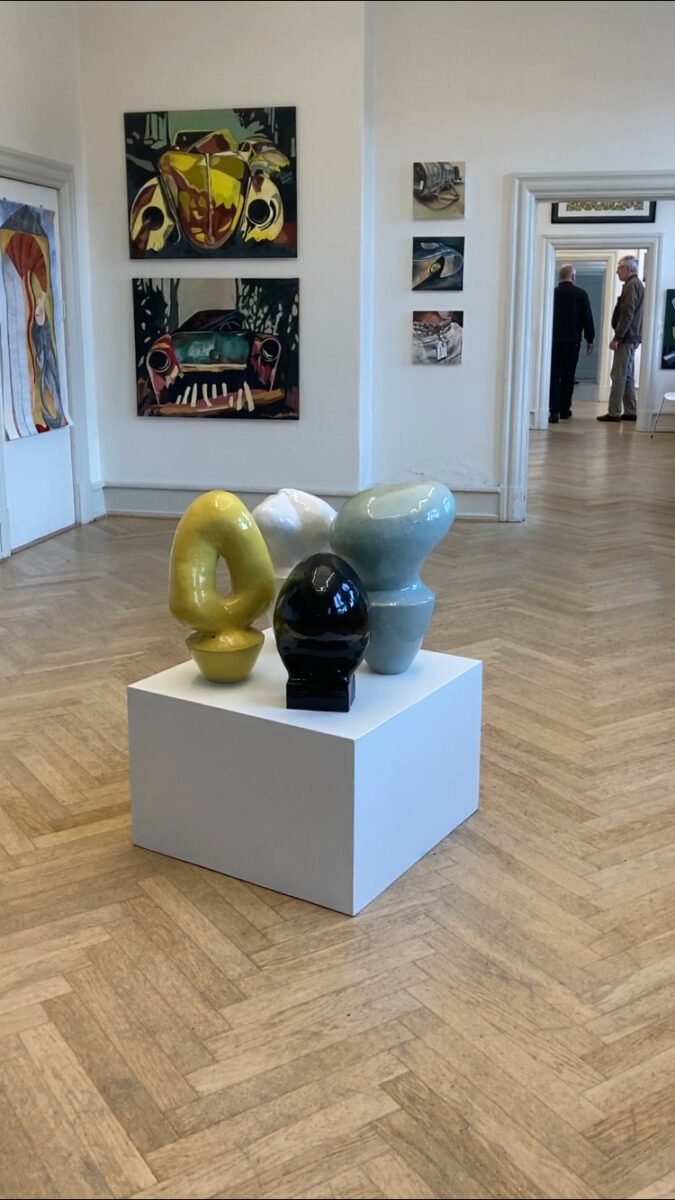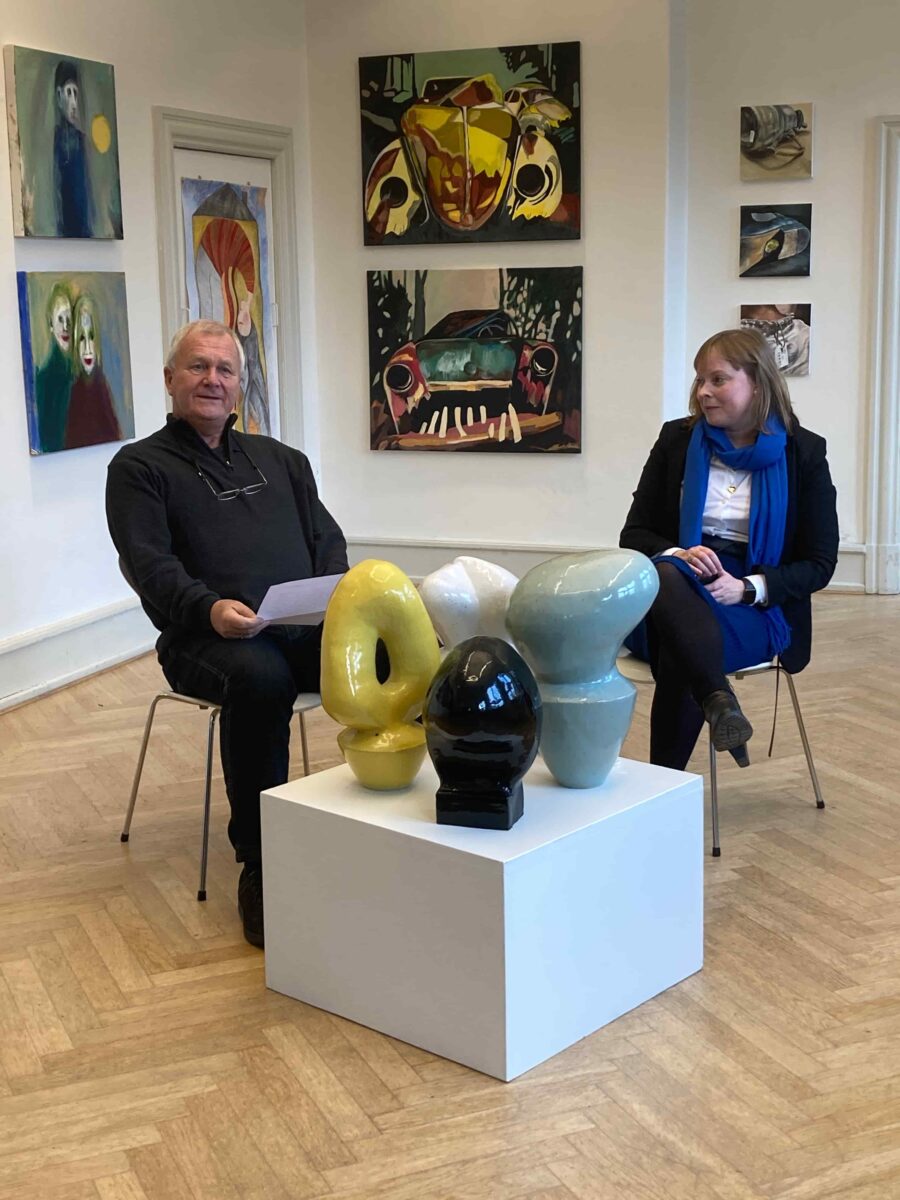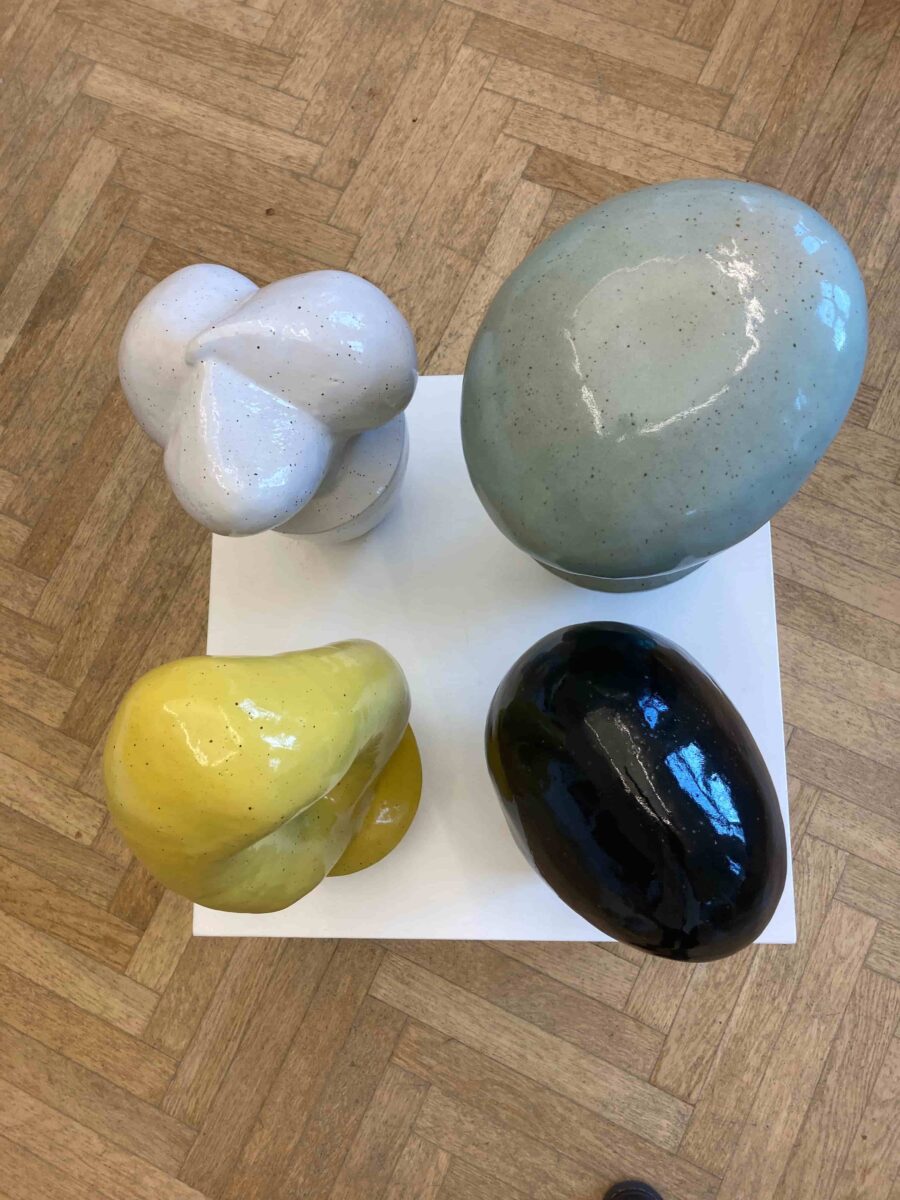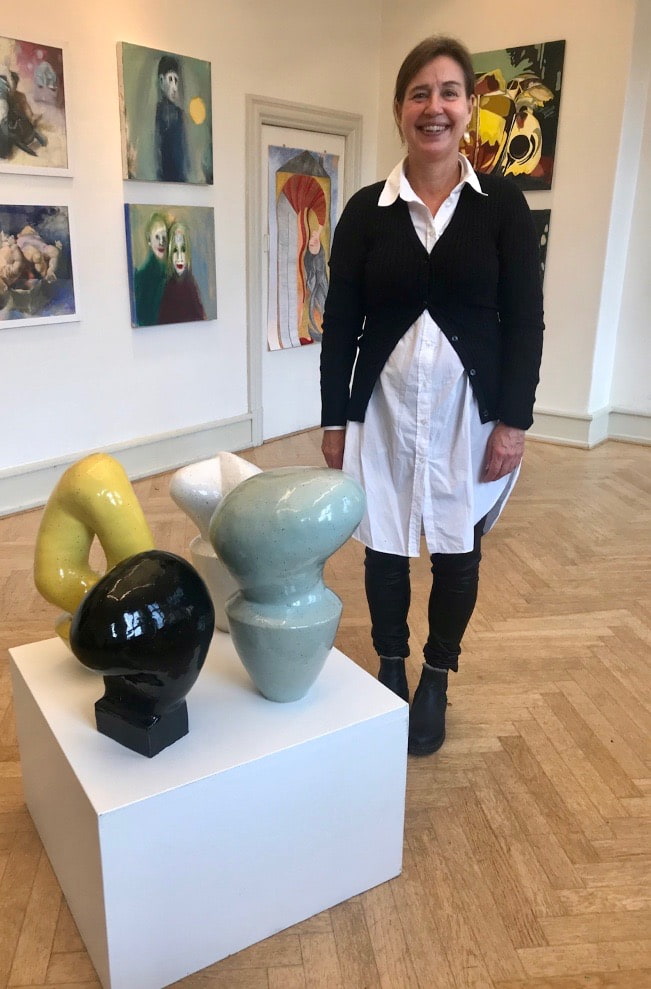 "The sculptures display a confident and thorough work with shapes. This is seen, among other things, in the refined way the base is integrated in the sculpture. Material and shape have been played with. The art works are playful and created with humour. And they "converse" beautifully with each other. They are open to interpretation and gain by their disparity and strangeness. Thus, even though the shapes are round they truly have an edge!!"
– Extract from speech given by a representative from the jury when Tina was rewarded First Prize at Roskilde Åben 2020
Trapholt Art Museum - Design Shop
"Tina Hvid is a ceramic sculptor, and her decorative sculptures are absolutely fantastic. Each individual sculpture is made by hand and completely unique. Heighten your décor with a piece of art in a bold colour."
– Quote from Trapholt, Instagram